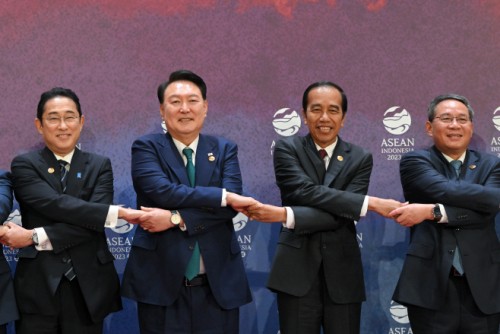 South Korean President Yoon Suk-yeol takes a commemorative photo with Japanese Prime Minister Fumio Kishida (left), Chinese Premier Li Qiang (right), and Indonesian President Joko Widodo during the ASEAN Plus Thress meeting at Jakarta Convention Center (JCC) in Indonesia on September 6, 2023./ Source: Yonhap News
AsiaToday reporter Hong Sun-mi
President Yoon Suk-yeol said on Wednesday any attempt to cooperate with North Korea on military affairs in a way that damages international peace must stop immediately.
After confirming the three-way security system at the Camp David Summit among South Korea, the U.S., and Japan last month, Yoon expressed his willingness to expand cooperation in responding to North Korea's nuclear weapons program to ASEAN countries. His remarks can be seen as a clear warning message to North Korea amid reports that North Korean leader Kim Jong-un plans to visit Russia soon for a possible arms deal.
At the ASEAN Summit held in Jakarta, Yoon called for ASEAN's support to the international community's efforts to achieve North Korea's complete denuclearization.
Yoon also urged ASEAN to actively participate in efforts to block North Korea's key sources of funding for its nuclear and missile development, such as cryptocurrency stealing and labor exports.
At the ASEAN Plus Three Summit held in the afternoon, Yoon said, "The international community should unite and clearly show that it does not stand by North Korea's nuclear and missile development."
"I ask for your interest and cooperation to block labor exports and illegal cyber activities that are sources of funding for North Korea's nuclear and missile development," he said. Chinese Premier Li Qiang was also in attendance.
Yoon's call for a joint response to North Korea is interpreted as a move to implement the Camp David agreement, where South Korea, the U.S. and Japan agreed to expand cooperation with Indo-Pacific region in all directions.
"South Korea, the U.S. and Japan agreed to coordinate our respective Indo-Pacific strategies and develop new areas of cooperation based on our full support for the ASEAN-led regional architecture," he said. "For this, we launched an annual South Korea-U.S.-Japan Indo-Pacific dialogue and newly established a trilateral maritime security cooperation framework to support the maritime security capacities of ASEAN and Pacific Island countries."
For the development of the ASEAN+3 cooperation system, Yoon said, "We would like to closely cooperate with the Japanese and Chinese governments to resume the trilateral cooperation mechanisms, including the South Korea-Japan-China summit."
In addition, Yoon shared his administration's plans to flesh out the Korea-ASEAN Solidarity Initiative, a vision to enhance practical and strategic partnerships with ASEAN.
Yoon also outlined plans to enhance the digital capabilities of ASEAN youths, contribute to the sustainable development of four countries along the Mekong River – Cambodia, Laos, Thailand and Vietnam – and help ASEAN respond to climate change and infectious diseases.
He also vowed to provide necessary support to boost private investment in future industries such as digital field as well as electric vehicles, batteries and smart cities.