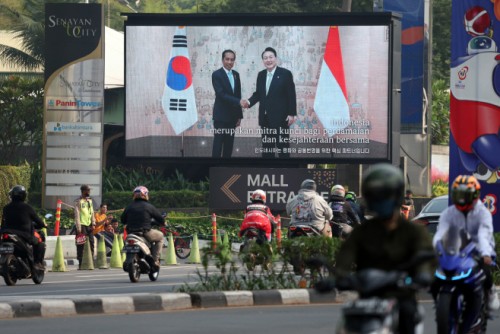 A billboard screen about South Korean President Yoon's state visit to Indonesia is displayed on the streets of Jakarta./ Source: Presidential Office
AsiaToday reporter Hong Sun-mi
President Yoon Suk-yeol stressed Tuesday that South Korea and ASEAN countries must join forces to respond decisively and cooperate closely on North Korea's denuclearization.
With North Korea's missile provocations and accelerating nuclear development emerging as the main security risk for the international community, attention is being paid to whether Yoon's proposal will lead ASEAN countries to engage more actively in imposing sanctions against North Korea. Foreign ministers of the ASEAN Regional Forum (ARF), the only multilateral consultative body in the region involving North Korea, issued a chairman statement in July condemning the launch of North Korea's intercontinental ballistic missiles, showing a clear sign of change.
"North Korea's increasing missile provocations and nuclear threats pose direct and existential risks to ASEAN countries," Yoon said in a written interview with the Indonesian daily Kompas ahead of a visit to Jakarta to attend a series of annual ASEAN-related and G20 summits.
"The peace and stability of the Indo-Pacific is an issue which is connected directly with the peace and stability of the international community," Yoon said. "International norms are being ignored and existing agreements and promises are being broken due to the war in Ukraine and North Korea's nuclear and missile threats," he added.
"We need to further strengthen cooperation and solidarity between South Korean and ASEAN to ensure that rules-based order can take root in the Indo-Pacific region," the president said.
Yoon expressed his willingness to strengthen cooperation with ASEAN countries, saying, "ASEAN Plus Three is specialized in mutual cooperation with Southeast and Northeast Asias."
"Since March, I have taken a series of measures to normalize and improve Seoul-Tokyo relations for the first time in 12 years," he said. "Based on this, I was able to launch a new level of trilateral cooperation among South Korea, the United States, and Japan, at Camp David."
"The three countries renewed their unwavering support for the ASEAN centrality, and decided to cooperate with ASEAN in promoting development cooperation programs," he said.
"Cooperation between South Korea, Japan, and China should get back on track," Yoon said. "South Korea will do its best to reinvigorate trilateral cooperation between Seoul, Tokyo and Beijing as the coordinating country of ASEAN Plus Three."
Yoon asked for China's cooperation again following the Camp David Summit, when the leaders of South Korea, the U.S., and Japan pointed China as a subject that hinders the "rule-based international order" in the region and urged a peaceful resolution of the bilateral issues between China and Taiwan.
"When the Northeast Asian countries' cooperation gets reinvigorated, the cooperative scheme of ASEAN Plus Three will gain greater momentum, and this will strengthen the ASEAN centrality," he said.
"The trilateral dynamic of South Korea, the U.S., and Japan is not designed to exclude a certain country or respond to certain forces," he said. "The three countries will strive to realize beneficial results for all countries by promoting universal values and rule-based international order."