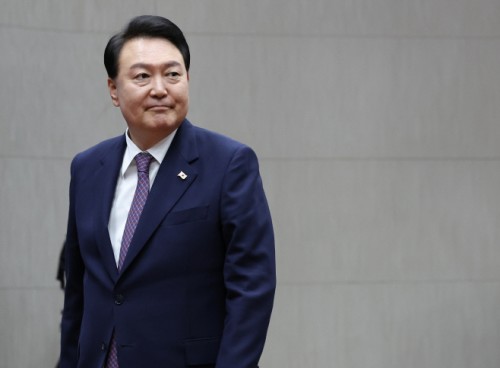 President Yoon Suk-yeol heads to the podium to deliver a congratulatory speech at a ceremony marking the 60th anniversary of the Korea National Diplomatic Academy in Seoul on Sept. 1, 2023./ Source: Yonhap News
AsiaToday reporter Hong Sun-mi
President Yoon Suk-yeol will embark on diplomatic engagements by holding more than 30 bilateral meetings with world leaders at the ASEAN and G20 summits this month.
It is the first time in two months that Yoon has been on the multilateral diplomatic stage again since July.
"Yoon is set to hold at least 14 bilateral meetings on the sidelines of the ASEAN and G20 summits," said Kim Tae-hyo, first deputy chief of the presidential National Security Office. "We are currently coordinating talks with about six other countries."
In addition, Yoon is expected to hold more than 30 bilateral meetings this month alone, in the wake of several multilateral meetings.
Earlier, Yoon played an active role in the multilateral summits, including the G7 Summit in May and the NATO Summit in July.
The president discussed main agendas such as strengthening global security cooperation with other countries, strengthening supply chains, and promoting to host the 2030 Busan World Expo, and attracting investment from global companies at the end of negotiations.
Since taking office in May last year, Yoon has held more than 50 bilateral meetings at multilateral meetings. He has been meeting with foreign leaders at every multilateral meeting. During the NATO Summit held in Lithuania back in July, he set a record of holding bilateral talks with the leaders of 13 countries in two days.
The ASEAN and G20 summits, which will be held for seven days starting Tuesday, is expected to be a turning point for Yoon's global diplomatic achievements this year. His active diplomatic efforts are aimed at seeking solid cooperation from the international community to respond to North Korea's intensifying nuclear and missile provocations, as well as attracting foreign investment and seeking support for its bid to host the 2030 Busan Expo.
The reason why Yoon is taking such time to hold bilateral talks is largely attributed to the experience that the talks with world leaders are directly linked to economic achievements.
Yoon's senior economic secretary, Choi Sang-mok, said South Korea has attracted a record high of US$36.45 billion from July last year to June this year. "Of these, US$4.2 billion was attracted by President Yoon during his trip," he said.