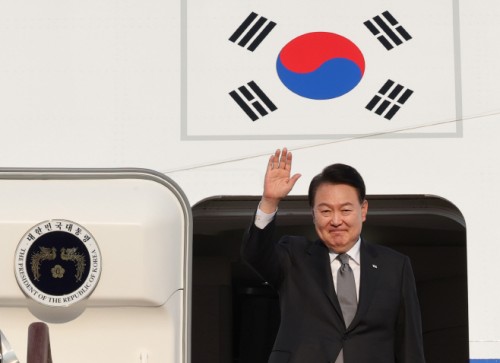 President Yoon Suk-yeol waves before departing for the United States at the Seoul military airport in Seongnam, South Korea, on Aug. 17, 2023. /Source: Yonhap News
AsiaToday reporter Hong Sun-mi
President Yoon Suk-yeol will depart Tuesday to attend regional summits involving the Association of Southeast Asian Nations (ASEAN) and the Group of 20 (G20).
By attending ASEAN-related summits during a seven-day trip, Yoon aims to materialize his own Indo-Pacific Strategy and Korea-ASEAN Solidarity Initiative (KASI) revealed last year. The president is also expected to focus on global diplomacy in a hectic schedule by actively seeking cooperation with those countries to diversity supply chains of high-tech industries and promote Busan's bid to host the 2030 World Expo.
Yoon will depart from Jakarta on Sept. 5 to attend a South Korea-ASEAN summit, an ASEAN Plus Three summit and a bilateral summit and business roundtable before visiting New Delhi on Sept. 8 to attend the G20 summit for two days from Saturday to Sunday.
Yoon will have bilateral summits with leaders from India, Indonesia, Malaysia, Singapore, Spain, Argentina, Cambodia and a number of other countries. More than 10 bilateral talks have been arranged so far.
"The actual number of talks is expected to be much higher as we are still coordinating the meeting schedule with various countries," First Deputy Director of National Security Kim Tae-hyo said during a press briefing.
The president will state the government's plans to push the KASI in earnest by announcing plans to strengthen cooperation in the cyber and maritime security fields, and cooperation projects in the digital innovation field.
Yoon will also seek to exploit the multilateral events and bilateral summits as a chance to promote Busan's bid to host the 2030 World Expo, which is just three months away. He will also seek ways to expand the ASEAN and Indian markets, which account for 21 percent of national exports.
"President Yoon plans to create momentum to put an end to the 'export negative march' that has been continued since October last year, through active diplomatic activities," said Choi Sang-mok, senior presidential secretary for economic affairs.
The president also plans to discuss ways to strengthen strategic cooperation in foreign affairs and security, and deepen partnerships in future industries, such as electric vehicles and batteries.