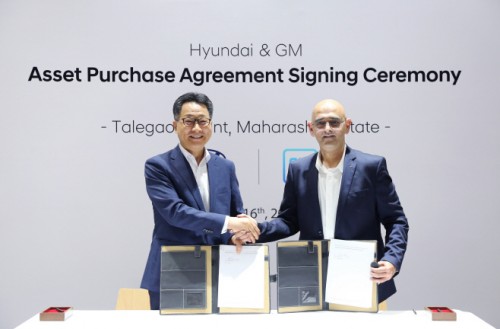 Kim Eun-soo, executive vice president of Hyundai Motor India, Middle East & Africa Strategic Region, and Asif Khatri, vice president of production at GMI, shake hands after signing an acquisition agreement for the Talegaon plant in Gurugram, Haryana state, India, on Aug. 18, 2023./ Source : Hyundai Motor Group
AsiaToday reporters Kang Tae-yoon & Woo Sung-min
Hyundai Motor Group Executive Chair Chung Eui-sun has made his bid for victory to take the lead in the Indian market, which has grown rapidly as the world's third-largest automobile market. The carmaker has acquired General Motors India (GMI)'s Talegaon plant to secure an annual production capacity of 1.4 million units, while establishing a local production system for electric vehicles.
The company signed an agreement to take over the assets of GM India's Talegaon plant located in Gurugram, Haryana state, India, on Wednesday. The acquisition amount will be closed to the public following mutual consultation.
The deal will enhance Hyundai Motor India's production capacity from 824,000 units to 960,000 units. With facility expansion and the capacity augmentation of Kia's plant in Anantapur, that can produce 370,000 units a year, the carmaker aims to produce around 1.4 million units a year.
India, with the world's largest population, rose to become one of the top three global automotive markets, selling 4.76 million vehicles last year, following China with 23.2 million vehicles and the U.S. with 14.2 million vehicles. Hyundai Motor Group sold a record 807,067 units in India, securing the second position after Maruti. This year, it aims to sell 878,000 units, 8.2 percent higher than last year.
Hyundai Motor's acquisition of the Talegaon plant aims to strengthen its leading position in the rapidly growing Indian automobile market and secure production capacity to actively respond to the EV era. Earlier this month, Chung visited Hyundai and Kia's R&D center in Hyderabad, and the automobile plants in Chennai. It marked his first visit to the Indian production sites since the inauguration as the chairman in 2020. He discussed mid- to long-term growth strategies with local employees. Chung stressed that it in order to establish a position as the first mover, it is crucial to deliver products that exceed customer expectations in a timely manner.
"This year will mark a new milestone in Hyundai's 27-year history in India," said Kim Eun-soo, executive vice president of Hyundai Motor India, Middle East & Africa Strategic Region. "Starting from the full-scale operation of the Talegaon plant in 2025, we will establish an