Reporter Park Sang-wook
Tarasoft CEO Ahn Chae-myung is seeking to make his company become a global tech leader. Since founding the company in 1994, he has grown into a partner in helping the company grow, developing business software, e-business cards, simple payment systems, messengers, and delivery platforms. Over the past decade, he has been focusing on cryptocurrency and blockchain technologies to develop an integrated multi-system using its own technology that includes coins, wallets, exchanges, NFTs, avatars, and metaverse, in order to become a global IT leader.
Here is our interview Q&As with Tarasoft CEO Ahn Chae-myung on the corporate strategy of becoming a global IT leader.
Q. Tell us about the TQ Pay that you recently developed.
A. Last May, we introduced the latest payment system called TQ Pay. The system combines the functions of next-generation exchange with a simple payment system to provide various services such as purchase, payment, deposit and withdrawal, merchant opening, sales management and point conversion. It focuses on meeting different needs in the digital era and providing safe and fast financial services through blockchain technology.
Q. Tarasoft is recognized the strongest in the blockchain industry. What are the reasons?
A. Based on R&D for a long time, the company has been leading the market, developing solutions that will be implemented in the future. For the blockchain technology sector, more than 40 professional engineers on planning, design, development, security, and video are collaborating to implement high-quality projects. Through the development and release of the TARA Mainnet, NFT platform and TARA Metaverse, it is creating a virtual world that combines both the digital and the real world.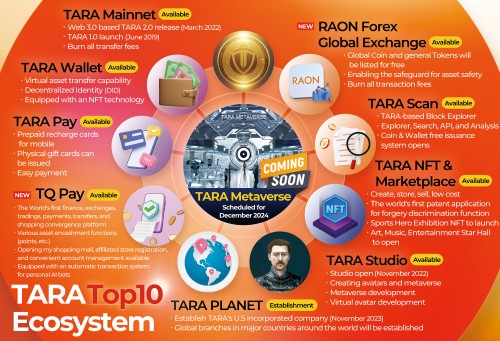 TARA Top10 Ecosystem/ Source: Tarasoft
Q. The welfare and facilities for employees are known to be unique. In what ways is it differentiated?
A. Tarasoft pursues a creative and challenging culture and provides an environment where employees can show their capabilities to the fullest. It creates an autonomous atmosphere, respects creative ideas, and supports them to be realized. It also provides welfare and facilities as much as large conglomerates, and creates a harmonious working environment through cafeterias and staff lounges as well as congratulatory cash gifts.
Q. Lastly, what are future goals of CEO Ahn Chae-myung and Tarasoft employees?
A. We will always be sincere and continue research and development to meet a wide range of our customer needs in the future digital world. Through the TARA Top10 Ecosystem, we pledge to become a clear global IT leader by activating blockchain solutions, NFT platforms, delivery platforms, avatar markets, and AI-based systems.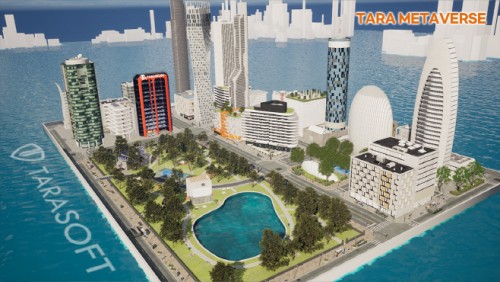 The image of Tarasoft's Metaverse / Source: Tarasoft