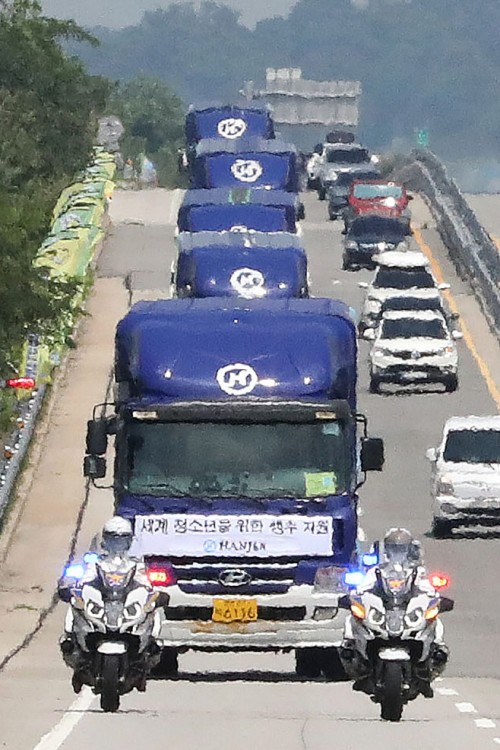 Hanjin's trucks carrying bottled water move to the World Scout Jamboree's campsite in Saemangeum, North Jeolla Province, on Aug. 5, 2023./ Courtesy of Hanjin
AsiaToday reporters Choi Won-young & Choi Ji-hyun
Samsung Electronics Chairman Lee Jae-myong has come forward to help the World Scout Jamboree event that was being on the brink due to the unrelenting heat wave. Samsung is the only company in the business community to dispatch hundreds of employees and medical support groups and to send mobile toilets and health drinks as many as three times, providing support to the campsite at the company level. Korea's other leading companies such as LG, HD Hyundai, GS, and Hanjin are also providing all-out support, expressing their hope that there will be no more patients with thermal diseases amid the scorching heat wave.
According to the business community on Sunday, Korea's privately owned enterprises are responding to the government's request to support the World Scout Jamboree, sending relief supplies to the site.
Samsung dispatched about 150 new employees to the site and decided to carry out an "open campus" business tour program for the Jamboree participants. Samsung provided the Korean Red Cross with 100,000 bottles of sports drinks and another 100,000 bottles of vitamin drinks on Friday. In addition, the company sent five doctors, four nurses and two assistants to provide free medical services on Saturday.
LG sent a total of 50,000 bottles of mineral water and sports drinks, 10,000 cooling scarves, portable fans, and power banks. It also provided six refrigerator trucks, and decided to support 5G wireless Wi-Fi routers and wired Wi-Fi in order to provide stable communication services. LG provided 50,000 additional hygiene items, such as shampoo, soap, detergent and insect repellent. It has also decided to support a large number of experience programs, such as smart factory tours at LG Science Park in Seoul, and LG Electronics operations in Changwon and Gumi.
GS Group also decided to distribute 40,00 bottles of frozen mineral water for free every day through its GS25 convenience store at the campsite, and send around 50 employees from its Seoul headquarters for assistance. HD Hyundai sent around 120 employees of its three shipbuilding subsidiaries – HD Hyundai Heavy Industries, Hyundai Mipo Dockyard and Hyundai Samho Heavy Industries – to support sanitary and safety management throughout the event. Hanjin Group has sent a total of 45,000 bottles of Jeju Pure Water, which is equivalent to 7 11-ton trucks.
Support from economic organizations also followed. The Korea Chamber of Commerce and Industry and the Federation of Korean Industries sent 400 large iceboxes and 100,000 bottles of frozen mineral water to the campsite, respectively.