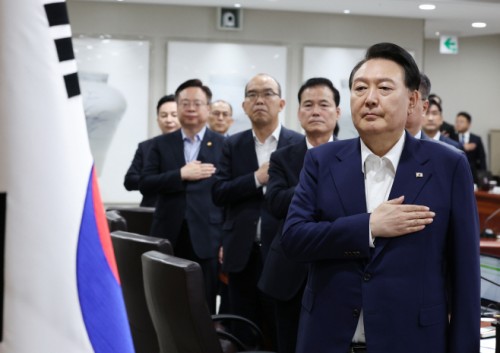 President Yoon Suk-yeol salutes the national flag at a Cabinet meeting held at the presidential office in Seoul on Aug. 1, 2023./ Source: Yonhap
AsiaToday reporter Lee Wook-jae
President Yoon Suk-yeol on Tuesday ordered relevant ministries to swiftly conduct full inspections of all underground parking lots built with flat-plate systems.
Yoon made the order at the 31st Cabinet meeting at the Yongsan presidential office, saying, "Many people are very concerned about the structural deficiencies of flat-plate structure construction."
Stressing that safety is more important than money, Yoon ordered the relevant agencies to immediately take necessary measures if safety issues are found and take additional measures in consultation with residents.
Yoon said that the cases revealed faults in all areas from design and construction to supervision, adding that the poor construction of flat-plate structure apartment complexes had begun before he took office.
The president said the protection of vested interests by what he called "cartels" are the cause of the problems.
"Our government is an anti-cartel government," Yoon said, stressing that achieving any kind of innovation and reform is impossible without eliminating cartels with vested rights and corrupt cartels.
"I have repeatedly said that innovation and reform are not done only by thinking," Yoon said. "Innovation and reform are impossible without fighting against the vested cartels."
"Cartels with vested interests that neglect public safety must be eliminated," he said. "Related ministries must come up with measures to rectify wrongful practices in the construction industry and ensure that strict administrative and judicial sanctions are imposed for legal and regulatory violations."