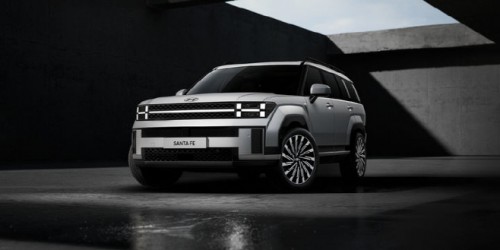 The all-new Santa Fe / Courtesy of Hyundai Motor Group
AsiaToday reporter Woo Sung-min
Hyundai Motor Co and affiliate Kia Corp are expected to record an operating profit of 25 trillion won (US$19.5 billion) for the first time since their foundation this year. They are also likely to meet the annual sales target for the first time in 9 years.
Analysts say that Hyundai Motor and Kia's profits jumped five times in three years after Chairman Chung Eui-sun took office, strengthening their dominance in the global market. Thanks to their quantitative and qualitative growth, the two are widely expected to become the world's top three automakers in global sales.
According to market tracker FnGuide's earning consensus on Monday, Hyundai Motor and Kia's operating profit this year is expected to reach 14.59 trillion won (US$11.4 billion) and 11.24 trillion won (US$8.8 billion), respectively, far exceeding the total of 25 trillion won. Compared to the previous year, Hyundai Motor increased 48.6 percent and Kia increased 55.4 percent, which is the highest ever. The two companies' operating profit consensus increased by about 1.5 trillion won and 500 billion won, respectively, in just a month, which is the result of securities firms raising their earnings forecasts altogether.
Hyundai Motor raised its annual management target this year, believing that stable earnings will continue in the second half of the year through its own analysis. The sales target remained at 4.32 million units as originally planned, but the sales growth rate was raised to 14-15 percent, 3.5 percentage points higher than initially planned. The operating profit ratio of 7 percent level was also raised to 8-9 percent. If the target is met, Hyundai Motor's sales and operating profit will be 163.9 trillion won and 14.751 trillion won, respectively.
Kim aims to achieve sales of more than 100 trillion won and operating profit of 11.5-12 trillion won this year. This is a 2.5 percent increase in sales and 23-29 percent increase in operating profit compared to the target set at the beginning of the year. The operating profit ratio increased from 9.5 percent to 11.5-12 percent. Kia plans to strengthen its high-yield system by expanding sales of popular RV models, which are in high demand across the world, while strengthening its position by launching large electric SUV EV9 in major overseas markets.
The industry expects that Hyundai Motor and Kia will be able to achieve their annual sales target of 7.52 million units presented at the beginning of the year. This is because vehicle sales are usually higher in the second half of the year than the first half, and both companies are set to release new vehicles in the second half. Hyundai Motor and Kia have already sold more than 3.65 million units worldwide in the first half of the year. If the sales target volume is achieved this year, it will be the first time in 9 years since 2014.