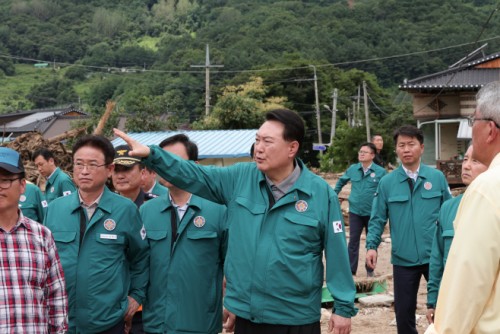 President Yoon Suk-yeol visits the landslide-stricken village of Beolbang-ri in Yecheon Country, North Gyeongsang Province, on July 17, 2023./ Source: Presidential Office
AsiaToday reporter Lee Wook-jae
President Yoon Suk-yeol on Monday blamed authorities' failure to follow disaster response rules after heavy downpours hit the country, saying, "If the basic principles of disaster response are not kept on the spot, it is difficult to ensure public safety."
The president seems to have rebuked authorities' poor management over the deadly submerging of a tunnel in North Chungcheong Province that made the situation worsen. The Office for Government Policy Coordination announced on the same day that it would launch an audit looking into all available administrative records to determine which government entity should be held responsible for failing to take adequate safety measures against the disaster.
"We have repeatedly emphasized access control over dangerous areas and preemptive evacuation since last year," Yoon said while presiding over the Central Disaster and Safety Countermeasure Headquarters meeting. The meeting was held immediately after Yoon returned to Korea, ending his eight-day state visit to the European countries of Lithuania, Poland and Ukraine.
"There is no way to suppress my sadness. I pray for the souls of those killed in the heavy rains and offer my condolences to the bereaved families," Yoon said.
The president called for officials to mobilize all available resources including the military and police to respond to the disaster. He vowed support to ensure swift rescue operations and called for dedicated efforts, including designating flood-hit areas as special disaster zones.
"This kind of extreme weather event will become commonplace. We must accept climate change is happening, and deal with it," Yoon said. "Public officials in charge of public safety should not just sit in the office when torrential rains come, but go out to the spot, look around, and deal with the situation in advance," he said.
After the meeting, Yoon visited the landslide-stricken village of Beolbang-ri in Yecheon Country, North Gyeongsang Province, to check the situation and comfort the residents. Yoon called for utmost efforts to rescue any remaining victims after meeting military, fire and police officials undergoing rescue operation. The president also visited Yechon's Beolbang-ri Elderly Welfare Center, a temporary housing facility for those affected by the landslides, to offer words of comfort.