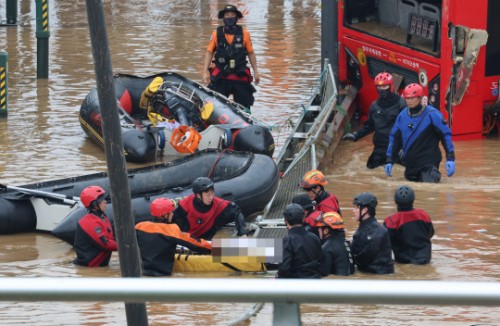 A search operation is under way on July 16, 2023, after an underpass in Osong, North Chungcheong Province, became flooded. / Source: Yonhap
AsiaToday reporters Kim Im-soo, Kim Chae-yeon, Lee Im-dae, and Lee Jin-hee
Heavy monsoon rains that started Thursday left a trail of destruction across the country causing destruction of roads, collapse of walls and embankments and landslides, leaving nearly 50 people dead. Observers point out that the central and local governments' lazy response has caused increasing number of casualties.
The Central Disaster and Safety Countermeasures Headquarters said as of 11 a.m., Sunday, the torrential rains left 33 people dead, 10 missing and 22 others injured since Thursday. However, two more bodies were found during a search operation in a flooded underground tunnel in the central town of Osong, North Chungcheong Province, and two more were added in North Gyeongsang, bringing the death toll to 37.
Among them, nine people died from the Osong flood. Fire authorities believe at least three people are isolated and missing, and the search operation is underway, which could lead to more deaths. Among the dead were an elementary school teacher who tried to take his brother-in-law to Osong Station but failed to get out of the scene.
Some argue that the Osong flood is a disaster caused by human error. As the water level of the nearby Miho River rose sharply, the Geumgang Flood Control Center informed the district office in charge of traffic control, but the administrative authorities did not control traffic at all.
North Gyeongsang Province saw 19 deaths, as of 4:30 p.m. By region, there are 9 in Yecheon, 4 in Yeongju, 4 in Bonghwa and 2 in Mungyeong in the province. Yecheon had designated 66 areas as vulnerable to landslides, but did not categorize Baekseok-ri and Beolbang-ri as such, causing casualties.
Two women were killed in landslides in Yeongju, while four people died in landslides in Nonsan, Cheongyang, and Sejong. In North Chungcheong Province, thousands of residents in six towns and villages were evacuated as the Goesan Dam overflowed the previous day.
The torrential rains also disrupted train operations. The state-run rail operator, Korea Railroad Corp. (Korail), has suspended all Mugunghwa and Saemaeul services, while some lands of KTX train services were halted.
The Korea Meteorological Administration said the country could still get as much as 30 centimeters of additional rain through Tuesday.