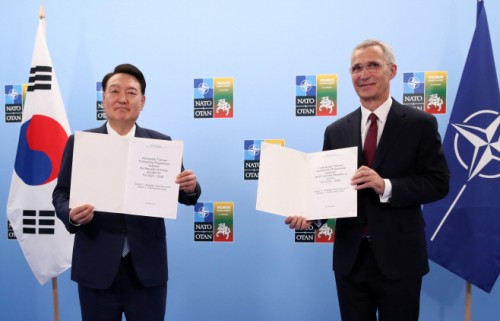 South Korean President Yoon Suk-yeol and North Atlantic Treaty Organization (NATO) Secretary-General Jens Stoltenberg pose for a photo after signing the individually Tailored Partnership Program (ITPP) during their meeting at the venue of a NATO summit in Villnius, Lithuania, on July 11, 2023./ Source: Yonhap
AsiaToday reporter Lee Wook-jae
South Korean President Yoon Suk-yeol and NATO Secretary General Jens Stoltenberg on Tuesday signed a new partnership agreement composed of 11 documents, called Individually Tailored Partnership Programs (ITPPs).
"At a time when security in the Atlantic and security in the Indo-Pacific region cannot be separated, it is more important than ever to have close cooperation between Indo-Pacific nations, such as the Republic of Korea, Japan, Australia and New Zealand, and NATO," Yoon said. "I hope this NATO meeting will have meaningful discussions on global security and emerging security areas."
With the signing of the ITPP, South Korea and NATO decided to strengthen their partnership, maintain international order based on norms, and respond to joint security challenges. They also agreed to promote cooperation in various fields, including strengthening interoperability, and to stand together for South Korea's "audacious initiative."
The two sides decided to institutionalize cooperation in 11 areas, including dialogue and consultation, counterterrorism cooperation, arms-reduction and non-proliferation, emerging technologies, cybersecurity, capacity development and interoperability, cooperation for interoperability, science and technology, climate change and security, women's peace and security, and public diplomacy.
The ITPP is aimed at building a more systematic and institutional framework for cooperation between NATO and partner countries. Unlike IPCP, which mostly listed the areas of cooperation, ITPPs specify the goals they pursue, background for cooperation, key objectives, and the timeframe of cooperative projects, the presidential office said.
South Korea signed its first IPCP and NATO in 2012 and revised it in 2017 and 2019.