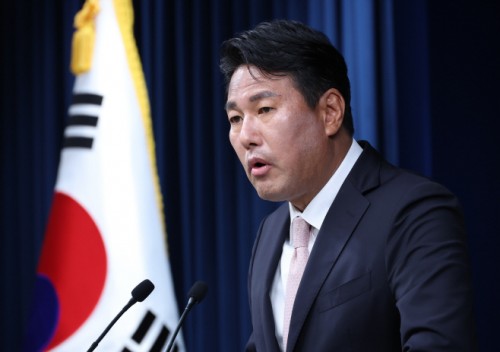 First Deputy Director of National Security Kim Tae-hyo speaks during a press briefing on the publication of the Yoon Suk-yeol government's National Security Strategy at the presidential office in Yongsan, Seoul, on June 7, 2023./ Source: Yonhap
AsiaToday reporter Lee Wook-jae
The Office of National Security under the presidential office published on Wednesday a National Security Strategy titled "Global pivotal state of freedom, peace and prosperity," which focuses on foreign and security policy initiatives to be pursued.
The strategy is a top-leveled document presenting the administration's policies for foreign affairs and defense. The previous governments have also released publications presenting major policy directions right after its launch.
In the 147-page document written in English, which is 107 pages long in Korean, the administration focuses turning South Korea into a "global pivotal state contributing to freedom, peace and prosperity" in a rapidly changing security environmental concerns, such as intensifying U.S.-China strategic competition, the Ukraine war, and rising North Korean nuclear and missile threats. The document states Pyongyang's nuclear and missile threats as Seoul's most pressing security challenge. The administration presented a "proud diplomatic" stance towards relationship with China, emphasizing the THAAD issue as Seoul's security and sovereign issue.
"The concept of national security should no longer be limited to prevention of external aggressions," President Yoon wrote in the preface, vowing to foster a sustainable peace that guarantees freedom and prosperity based on strong security, as opposed to a fragile peace that merely postpones war.
Yoon said the key to the country's future lies in developing a national security strategy that anticipates approaching changes and maximizes the interests of the nation and its people. The president reiterated his administration's diplomatic goal of becoming a "global pivotal state" and expressed his determination to proactively respond to the rapidly changing security environment based on the spirit of freedom and solidarity.
The document compares the Yoon administration's approach to North Korea, Japan, China, and Russia, with the previous Moon Jae-in's, saying, "We move toward a healthier and more mature relationship based on mutual respect and reciprocity." It stressed the Yoon administration's "proud diplomatic stance", saying, "We run a regular communication system to manage issues. Particularly, we make it clear that the THAAD issue is a matter of our security sovereignty."
Regarding the relationship with Pyongyang, Yoon said, "The North is explicitly running an offensive nuclear strategy. We need to build groundbreaking capabilities to respond to North Korean threats."
On the relationship with Japan, he said, "We will face the past of our relationship with Japan and create a new future."
"The previous administration spent its time and efforts on matters related to the Korean Peninsula. Now it is about approaching the same matter by considering the mainstream ideas of our major allies, friendly nations," an official at the presidential office said.