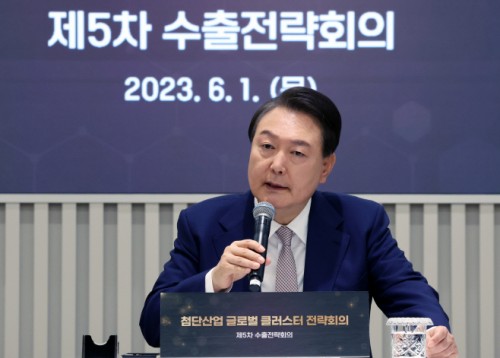 President Yoon Suk-yeol speaks during an export strategy meeting at Seoul Startup Hub M+, a support body to promote the growth of startups, in Seoul on June 1, 2023./ Source: Yonhap
AsiaToday reporter Lee Wook-jae
President Yoon Suk-yeol expressed his willingness to foster the Korean version of the "Boston Cluster" during a strategy meeting on Thursday. The government is speeding up to form global clusters, focusing on cutting-edge industries such as biotech, judging that there is no world-class cluster in the country despite more than 1,000 clusters of different kinds are in operation.
Yoon discussed ways to foster the Korean version of the Boston Cluster while presiding over the 5th Export Strategy Meeting with government and business officials at Seoul Startup Hub M+, a support body to promote the growth of startups, in Seoul. Back in April, the president visited the Boston Cluster, which is regarded as the center of the global biotech industry, during his state visit to the U.S.
"The Boston Cluster was formed not just based on MIT, but also based on a fair market and compensation system, which attracted top talents from across the engineering, medical, legal and financial fields," Yoon said.
He stressed that the government's active initial investment was behind the U.S. being able to build a global cluster. Referring to the case of visiting the U.S. Defense Advanced Research Program (DARPA), Yoon said, "We could see that the government takes the lead in investments, whether it's Silicon Valley, MIT, or Boston Cluster, and private investment come along at some stage."
"We have about 5 percent of the national budget for R&D. In the end, a competent government is the one that spends money effectively," the president said.
"In order to ensure the successful operation of clusters, the government's job is to legislate a fair compensation system and make policy efforts to vitalize markets, while boldly lifting unreasonable regulations, and allow private interest and investment to follow," he said.
DARPA is one of the institutions in the United States that is widely known for inventing the digital protocols that gave birth to the internet. It developed many of the technologies used for stealth, autonomous driving, and others. Yoon's remarks indicate that the government should preemptively lay the groundwork on behalf of the private sector, which is difficult to invest in new industries from the beginning.
The president also stressed the need to cooperate with international institutions to create high-tech industrial clusters. "We have to use the concept of an alliance, not a partnership," he said. "The government should now pay attention to international cooperation systems between research institutions and invest in them."