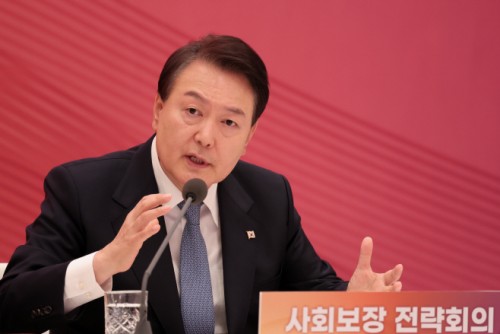 President Yoon Suk-yeol speaks at a meeting held at the Blue House Guest House on May 31, 2023./ Source: Presidential office
AsiaToday reporter Lee Wook-jae
President Yoon Suk-yeol said Wednesday that the social security service and welfare system operated by the central and local governments should be reasonably merged and consolidated to form a proper market.
Yoon made the remark while presiding over a social security strategy meeting held at the Blue House Guest House. "The central government handles more than 1,000 welfare services and local governments handle more than 10,000, while the public is not even aware of them," he said.
The president argued against universal welfare, saying, "Cash welfare should be selective and aimed for the weak. If social security exceeds the level we can handle, it will eat away at our society." He said that if social security services themselves become a competition and become industrialized and marketized, it will be an important factor for the growth and development of our society.
The remarks show Yoon's strong will to avoid populist welfare policy during his term, such as cash handouts which is often aimed at winning votes. This seems to be aimed at resolving the astronomical national debt caused by welfare-related fiscal spending under the previous Moon Jae-in administration, while improving the quality and efficiency of welfare services.
"If we hand out money uniformly, it's nothing more than spending money," Yoon said. "It is not a growth engine that contributes to growth."
While focusing on "welfare for the vulnerable", the government is seeking to create an environment so that it can be advanced by the private sector in welfare areas such as education, and health, which are in universal demand. The government decided to strengthen service welfare to realize the universal needs of the entire people while protecting the vulnerable more closely, and to promote tasks to enhance soundness through welfare financial reform.
Meanwhile, President Yoon met former Japanese Prime Minister Yoshihide Suga, who visited Seoul later in the day.