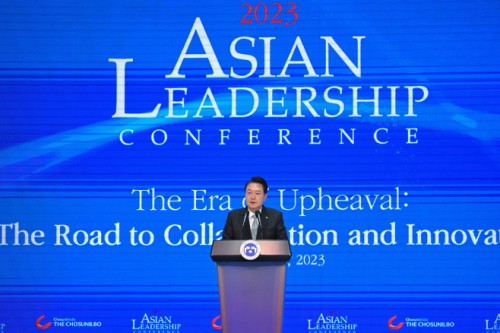 President Yoon Suk-yeol delivers a congratulatory speech at the opening ceremony of the 2023 Asian Leadership Conference at the Shilla Hotel in Seoul on May 17, 2023./ Source: The Presidential Office
AsiaToday reporter Lee Wook-jae
President Yoon Suk-yeol pointed out that rather than working together to solve global crisis and challenges, there are "regrettable forces" that attempt to change the status quo by force, engage in coercive diplomacy, or use nuclear weapons for blackmail.
Yoon made the remarks during the 2023 Asian Leadership Conference held at the Shilla Hotel in Seoul. "The international community should join forces to respond firmly to such attempts that clearly violate international laws and international rules, and jointly realize international law and rules," he said.
"North Korea continues to make nuclear and missile provocations, which directly violate the U.N. Security Council resolution, despite criticism and warnings from the international community," Yoon said. "The North has carried out more than 100 provocations in the past year."
"In this situation, the terrible human rights conditions of North Korean is inevitable," he said, adding, "While leaving the door open for denuclearization talks, I have responded firmly to the illegal provocations."
He said he is grateful that the international community has condemned the North Korean provocations and supported South Korea's position, saying, "The Republic of Korea will focus more on international cooperation to respond to the challenges and crises facing the world."
The president also reiterated his support for and solidarity with Ukraine, introducing Ukraine's first lady Olena Zelenska and Deputy Prime Minister Yulia Svyrydenko, who attended the event.
"I met them in my office yesterday. I have learned the Ukraine people's pain and human rights abuses suffered by illegal aggression," Yoon said. "Countries that share the universal values of freedom, human rights and the rule of law should not allow the illegal invasion of Ukraine and the attempt to change the status quo by force to become a successful precedent," he stressed.
"The international community's support and assistance for Ukraine are not meant only for Ukraine and its people," he said. "I am certain that by strengthening the international community's cooperative system in responding to global crises and challenges, the benefits and gains will be shared by all the world's citizens," he added.