If you want to use the free issuance service for coins developed by Tara Scan, you need to go to the Tara Scan website. At first, the English version of the site appears, but you can change it to Korean.
If you click the Free Coin Issuance banner on the main screen, the information input window will appear. You can enter the name and symbol of the coin you want.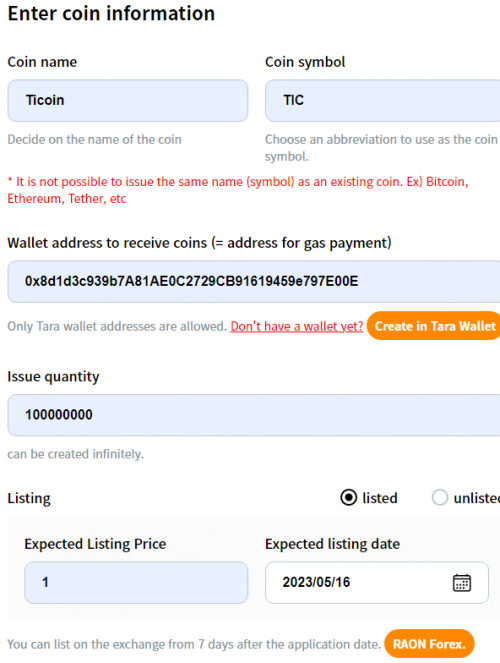 A screenshot of issuing a free coin on Tara Scan
The wallet address to receive coins can be issued free of charge on Tara Wallet. You can create a wallet after signing up as a member. After that, you can copy and paste the wallet address.
The issuance volume is unlimited, so I issued only 100 million coins. If you want to list the issued coin, you can apply for it free of charge on RAON Forex, an exchange operated by Tarasoft. The desired price is calculated on a Tether basis (USDT) and is available from at least 1 USDT.
Issuing coins is free, however it costs 5 Tara of gas rate to transmit the coin to your wallet. Since 1 Tara is worth 250 Korean won, it costs 1,250 won in total. You can purchase Tara coins on RAON Forex.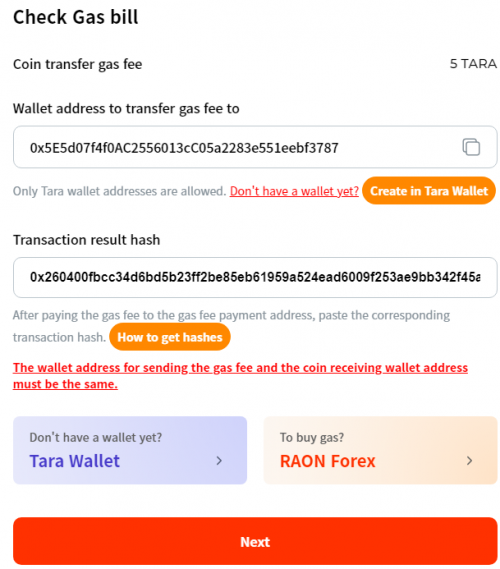 A screenshot of transmitting Gas charges on Tara Scan
Send the coins for the gas bill and copy and paste the gas transmitting address on the main page of Tara Scan, to make the hash value appear. Then copy and paste it into the transaction hash. Afterwards, enter the company information and the person in charge on the next page to complete the application for coin issuance.
"The cost made in developing coins and wallets varies widely depending on companies. Tarasoft is the only company that issues free coins other than gas costs," an official from Tarasoft said.