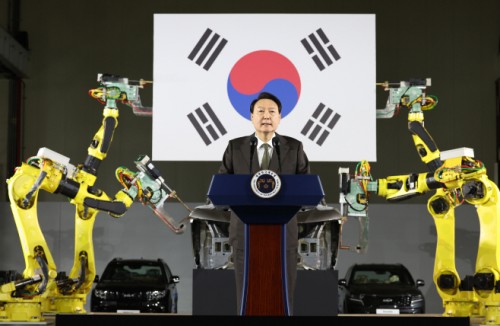 President Yoon Suk-yeol delivers a congratulatory speech at a groundbreaking ceremony for an electric vehicle-only plant held at Kia AutoLand in Hwaseong, Gyeonggi Province, on April 11, 2023./ Source: Yonhap
AsiaToday reporter Lee Wook-jae
"We will raise Korea's electric vehicle (EV) production capacity five times by 2030 to make Korea a Global Top 3 in Future Cars," President Yoon Suk-yeol said on Tuesday.
His remarks came after attending a groundbreaking ceremony for Kia's electric vehicle-only plant held in Hwaseong, Gyeonggi Province. "The government will spare no policy support such as R&D and tax support so that companies can quickly adapt to the revolutionary transition," he said.
Pointing out that the global automotive industry is undergoing a huge paradigm shift, the president said, "The auto industry, which has been driving our economic growth, should preemptively respond to the paradigm shift."
"Kia's EV plant is the first domestic production facility Hyundai will be building in 29 years, and the first step in the '24 trillion won investment' project in the domestic EV sector planned by 2030," Yoon said. "The government as a team player will play a role in helping Hyundai lead innovation in the global mobility industry."
"We will make southern Gyeonggi Province the world's best EV, semiconductor, and IT cluster with global infrastructure and competitiveness," he said. "The southern part of Gyeonggi Province will become the world's best high-tech industrial base."
The president also vowed to push for GTX project, which was one of his presidential election pledges. "The GTX-A route will first open the Suseo-Dongtan section early next year, and we will begin building the GTX-C route connecting Suwon to Yangju within this year," he said.
The EV plant project is the first domestic investment of the government to quickly implement the "Global Top 3 in Future Cars" strategy, which is part of the "Six High-Tech Industrial Strategies" announced at an emergency economic meeting presided over by President Yoon last month.
In line with Yoon's pledge of policy support, the government plans to establish comprehensive measures to shift the automobile ecosystem to future cars and announce them in the first half of the year.