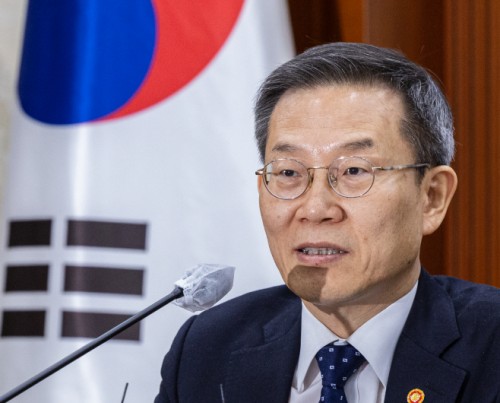 Science Minister Lee Jong-ho speaks during a meeting with economy-related ministers in Seoul on April 6, 2023./ Source: Yonhap News
AsiaToday reporter Jeong Moon-kyung
The government will invest 160 trillion won (US$9.8 billion) to secure 'super gap' technologies in the country's three major sectors – semiconductor, display and battery.
The Ministry of Science, Information Technology, and Communication announced the "Three Major Technology Super-gap R&D strategies" at an emergency economy ministerial meeting on Thursday.
The strategy is a follow-up measure to President Yoon Suk-yeol's order to "accelerate private investment in high-tech industries such as semiconductors, and to provide support for research and development (R&D), manpower and tax" at the 14th emergency economic meeting for people's livelihood. It is also a detailed plan of the government's "New Growth Strategy 4.0" announced in February.
The country will create a R&D fund of around 160 trillion won by 2027, including 156 trillion won from the private sector and 4.5 trillion from the government, for the country's chip, display and battery sectors, and launch a public-private research consultative body to help secure technologies.
For semiconductors, the ministry picked 45 technologies such as developing new memory chips and advancing fabrication processes.
For displays, the government will support R&D for 28 technologies including ultra-high definition for augmented, virtual and mixed reality as well as 3D and hologram devices.
In the field of next-generation batteries, the government chose 27 technologies such as enhancing the battery's fire protection and localizing critical materials.
The government has decided to launch a public-private research consultative body in the first half of the year, involving supporting ministries, such as the Ministry of Science and ICT and the Ministry of Trade, Industry and Energy, as well as experts and organizations. Through the consultative body, it plans to support all stages from planning R&D projects to sharing and utilizing research results.