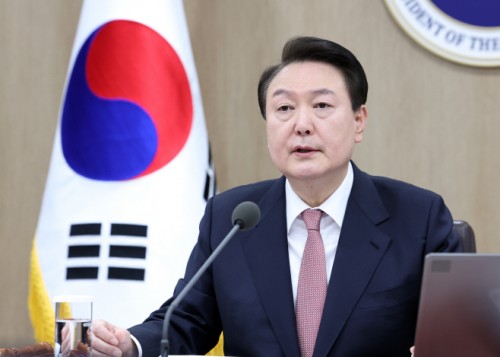 President Yoon Suk-yeol speaks at a cabinet meeting held at the presidential office in Seoul on March 21, 2023./ Source: Yonhap
AsiaToday reporter Lee Wook-jae
President Yoon Suk-yeol said Tuesday that South Korea will build the world's largest chip center by attracting a large number of Japanese technologically advanced chip makers to the country's semiconductor cluster to be established in Yongin, if supply chain cooperation between South Korean and Japanese companies materializes.
In his opening remarks at a cabinet meeting held at the presidential office in Seoul, Yoon said, "The improvement of Korea-Japan relations will establish a stable supply chain by connecting the outstanding manufacturing technology of Korean companies with the competitiveness of Japanese companies in high-tech industries such as semiconductors."
His remarks that stress the importance of collaboration with Japan come following his recent announcement of building the world's largest system semiconductor cluster in Yongin based on private investment of 300 trillion won. In particular, the president focused on future visions by presenting blueprints such as the expansion of economic benefits for both countries due to the normalization of Korea-Japan relations.
"Japan vowed to lift its export curb of three semiconductor materials against Seoul while South Korea decided to withdraw its complaint filed with the World Trade Organization. And the two countries also agreed to continue talks to reinstate each other to their whitelist of trusted trading partners," Yoon said. "I will preemptively order our trade minister today to begin necessary legal procedures to have Japan back on our whitelist," he said.
Previously, the two nations agreed to reinstate each other to their respective "whitelist" of trusted trading partners. However, it is expected to take at least two months for both countries to put each other back onto their respective whitelist due to necessary procedures.
In addition, Yoon stressed the need for friendship between the two countries, citing cooperation in liquefied natural gas (LNG), joint response to carbon neutrality by 2050, Japanese market expansion for overall Korean products, as well as recovery of domestic demand and revitalization of the local economy due to an increase in Japanese tourists.
Yoon stressed the need to cooperate with Japan to respond to North Korea's increasingly sophisticated provocations. "It was urgent to share complete information with Japan on North Korea's nuclear weapons and missiles, so I declared at the Korea-Japan summit that we would preemptively normalize the General Security of Military Information Agreement (GSOMIA) without preconditions," Yoon said.
In this regard, the South Korean foreign ministry sent an official letter to Japan on fully restoring the military pact.
"Through this measure, the South Korean government has removed institutional uncertainty related to GSOMIA and laid the foundation for strengthening military intelligence cooperation between South Korea and Japan, and among Korea, the US and Japan," the foreign ministry said Tuesday.