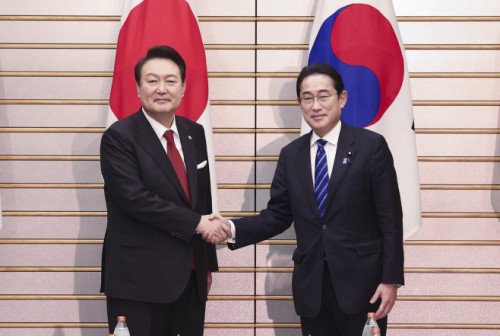 South Korean President Yoon Suk-yeol and Japanese Prime Minister Fumio Kishida shake hands prior to their expanded summit talks at the latter's residence in Tokyo on March 16, 2023./ Source: Yonhap
AsiaToday reporter Lee Wook-jae
President Yoon Suk-yeol visited Japan on Thursday for a summit meeting with Japanese Prime Minister Fumio Kishida, and started dialogue to normalize bilateral relations.
Yoon's visit signaled 'shuttle diplomacy' between the two countries, and the two leaders agreed to move toward a future-oriented relationship in various fields including diplomacy, security and culture.
Yoon and Kishida held a joint press conference after their summit meeting at the latter's residence in Tokyo. The summit was held in the order of security-related talks between the two countries, followed by expanded talks which focused on economic cooperation.
In the opening remarks at the expanded meeting, Yoon said the summit signified a "fresh start of bilateral ties." He said that Japan, which shares the universal values of freedom, human rights, and the rule of law with South Korea, is a partner in cooperation on security and global economic agendas.
Yoon then referred to North Korea's ballistic missile launch, saying, "North Korea's nuclear and missile threat is a huge threat to peace and stability, not only in East Asia but also in the international community." He also stressed the need for cooperation between the two countries, saying, "South Korea and Japan should work closely together in solidarity, and wisely deal with such unlawful threats and dilemmas for the international community."
President Yoon said, "I strongly welcome Japanese Prime Minister's mention of the restoration of shuttle diplomacy," adding, "I hope that the two countries work together to open a new era of South Korea-Japan relations through close communication."
Kishida said that the two leaders agreed to resume shuttle diplomacy that is "free from any format," and said they plan to exchange views on how to strengthen communication between Seoul and Tokyo in various fields such as politics and the economy.
Since the two leaders met just 10 days after Seoul announced its plan to compensate Korean victims who were forced to work during the Japanese colonial period of World War II, there was no 'joint declaration' by the two leaders.
Clearly, there is a sign of thawing ties. On the same day, Japan declared it would lift export restrictions and business lobbies of Korea and Japan – the Federation of Korean Industries (FKI) and the Japanese Business Federation – announced they will establish two 'future partnership funds" to bolster bilateral cooperation in a wide array of sectors. However, the key to the complete normalization of bilateral relations seems to be a solid relationship of trust between the two leaders.
The history of shuttle diplomacy between South Korea and Japan began with then-President Roh Moo-hyun in 2004. However, it had been blocked since Japanese Prime Minister Junichiro Koizumi visited the Yasukuni shrine.