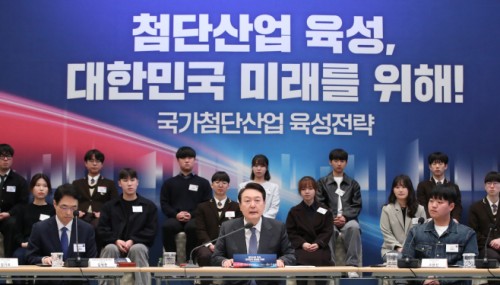 President Yoon Suk-yeol speaks during the 14th emergency economic and public livelihood meeting at Cheong Wa Dae on March 15, 2023./ Source: Yonhap
AsiaToday reporter Lee Wook-jae
President Yoon Suk-yeol announced the 'National High-tech Industrial Complex Creation Plan' on Wednesday and said the world's largest seminconductor cluster in the Seoul metropolitan area will be set up by attracting 300 trillion won (US$229.8 billion) in investments.
Chairing an emergency meeting on people's livelihoods, Yoon said that cutting-edge industries are the nation's key growth engine and strategic security asset that are directly connected to jobs and livelihoods.
"It is President Yoon's decision to save the people's future food," the presidential office said, adding, "We expect that the cornerstone will be laid to win the global chip competition."
The government's plan is aimed at promoting six key industries – chips, displays, secondary batteries, bio, future vehicles and robots – calling for the corporate investment of 550 trillion won by 2026.
Yoon said the government will create the envisioned cluster in Yongin, Gyeonggi Province. In a bid to spur balanced regional development, the government will also build 14 national advanced industry complexes across the country to support future strategic industries.
The cluster will be further expanded through links to existing memory chip plans and design centers in nearby districts such as Giheung and Pangyo.
"Recently, the economic battlefield that started with semiconductor is expanding to the entire high-tech industry, including batteries and future cars," Yoon said. "Countries are spending large-scale subsidies and tax support to attract high-tech manufacturing facilities to their own countries," he said. The president vowed to firmly support private investment for further growth.
Yoon said the government will build 14 national advanced industrial complexes spanning a total of over 33 million square outside the capital area in an effort to nurture the space, future vehicle and hydrogen industries.
Stressing that speed is key, Yoon said, "The government will do everything in its power to expedite the creation of the national high-tech industrial complex announced today." He called on the National Assembly to swiftly pass a bill expanding tax credits for investments toward cutting-edge industries.