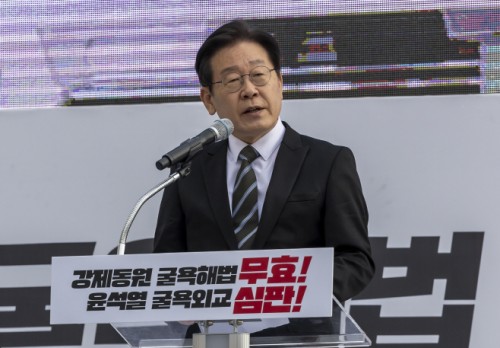 Lee Jae-myung, leader of the main opposition Democratic Party, speaks at a rally protesting against the government's compensation plan for victims of Japan's wartime forced labor in Seoul on March 11, 2023./ Source: Yonhap
AsiaToday reporter Kim Na-ri
Lee Jae-myung, leader of the main opposition Democratic Party (DP), faced strong calls for his resignation due to the death of his former aide Jeon Hyung-soo. Jeon is the fifth person around Lee to commit suicide since corruption allegations involving Lee surfaced in 2021. DP lawmakers who are not Lee's faction called him to resign.
As Lee and the DP face the biggest crisis since the presidential election due to the latest incident, the main opposition party is seemingly losing its steam a year ahead of the general elections.
According to the DP on Sunday, there are growing voices mainly among non-Lee faction questioning Lee's suitability as the DP leader and calling for Lee's resignation.
"I feel shameful and miserable as a member of the Democratic Party that a person like Lee Jae-myung is the leader," DP lawmaker Kim Hae-young wrote on his Facebook. "If the party continues to protect Lee Jae-myung, the DP will die," he added.
"If Lee or someone around him put pressure on the deceased, Lee should take responsibility," lawmaker Yoon Young-chan, who is a non-Lee faction, wrote on his Facebook on Friday. "Lee deserves to take moral responsibility," he added.
On the other hand, Lee blamed the prosecution for the death. "This happened because of the prosecution's investigation that applied excessive pressure, not because of Lee Jae-myung," the DP leader said in a party meeting on Thursday. Within the party, there is a growing voice calling on Lee to take responsibility for the tragic deaths.
Jeon reportedly left a note, telling Lee to leave politics and to manage his aides in a sincere manner. Jeon served as Lee's chief of staff during his term as the Gyeonggi governor.