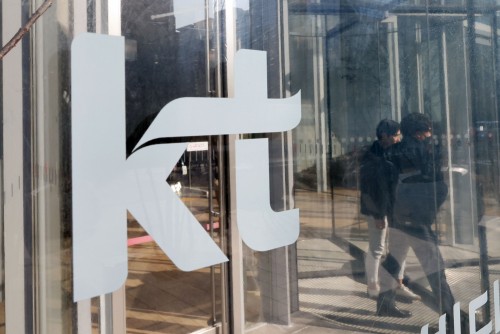 People are passing by KT's Gwanghwamun office building./ Source: Yonhap
AsiaToday reporter Jeong Min-hoon
The prosecution has launched a formal investigation into KT, which has been suspected of professional malpractice, ahead of its regular shareholders' meeting on March 31 to elect its next CEO.
In particular, the prosecution reportedly found that KT tried to delete internal data in preparation for the prosecution's forced investigation, apart from the civic group's complaint against KT CEO Koo Hyun-mo and KT Group Transformation Director Yoon Kyung-rim over professional malpractice.
According to AsiaToday's reports, the Seoul Central District Prosecutors' Office received a complaint from civic group "Just People" on Tuesday requesting to investigate CEO Koo and Director Yoon on charges of professional breach of trust, and allocated the complaint to the Fair Trade Investigation Department on Wednesday.
The prosecution is reportedly reviewing the charges and plans to call in those involved as early as this weekend to find out the truth. The Fair Trade Investigation Department is currently in charge of the arrest case of Cho Hyun-beom, chairman of Hankook Tire & Technology, in connection with allegations of unfair support and embezzlement of affiliates.
The civic group raised suspicions that CEO Koo gave KT telecop's work to a specific facility management company, while creating secret funds to use them as lobbying funds for politicians. Besides, the civic group claimed that Yoon helped venture company "B", headed by Koo's older brother, to be taken over by Group "C" and re-enter KT in return.
In addition to the allegations, the prosecution reportedly found circumstantial evidence that KT ordered its employees and affiliates to delete data related to CEO Koo. The prosecution is also looking into allegations that former KT executives were unfairly paid.
The prosecutor is expected to carry out an investigation ahead of KT's regular shareholders' meeting, affecting the appointment of KT's next CEO. KT announced Wednesday that it proposed a vote on Director Yoon as the candidate for the next CEO during the upcoming regular shareholders' meeting.
In response, an official from KT said, "We are not aware of anything related to the prosecution's investigation, and have no position to disclose it."
However, the presidential office, the ruling party, and even KT's largest shareholder national pension have raised problems in the process of selecting the next CEO. In particular, President Yoon Suk-yeol and the presidential office are said to have a strong will to correct the appointment of KT's next CEO.
Regarding the appointment of KT's next CEO, the presidential office issued a statement, saying, "Governance should be achieved fairly and transparently," adding, "The government maintains a policy stance of 'business-oriented market economy', but governance is important for companies, especially large companies, that have a big impact on people's livelihoods."