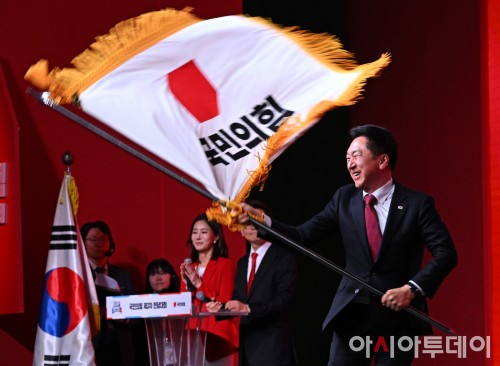 Rep. Kim Gi-hyeon waves the People Power Party flag after being elected as the new leader of the ruling party at the national convention held at KINTEX exhibition center in Goyang, northwest Seoul, on March 8, 2023./ Source: Yonhap
AsiaToday reporter Kim Na-ri
The ruling People Power Party (PPP) has elected Rep. Kim Gi-hyeon as its new leader during its national convention on Wednesday.
The result is considered a victory for President Yoon Suk-yeol, because Kim has been widely known as Yoon's favorite.
Kim's mission is to take back majority control of the National Assembly from the main opposition Democratic Party (DP) by leading the party to a victory in next year's general elections, and to unite the party that has been divided due to conflicts arose during the election campaign.
The third national convention was held at the KINTEX exhibition center in Goyang, northwest of Seoul. Kim won 52.9 percent of the votes against his biggest rival, Rep. Ahn Cheol-soo, who received 23.4 percent. Attorney Chun Ha-ram came in third, with 14.9 percent, while former Prime Minister Hwang Kyo-ah ranked fourth with 8.7 percent.
Four-term lawmaker Kim won its leadership race despite his alleged speculation on land in Ulsan, and the presidential aide's alleged interference in the election.
"By becoming one with fellow party members, I will lead the party to victory in next year's general elections by reviving livelihoods," Kim said in his acceptance speech.
The ruling party will now focus on next year's general elections under Kim's leadership. Some observers say that the 22nd general election has been upgraded to a second-round match between President Yoon Suk-yeol and the main opposition Democratic Party leader Lee Jae-myung.
The party also elected five members to join its Supreme Council. They are Kim Jae-won, Kim Byung-min, Cho Su-jin, Tae Yong-ho, and Jang Ye-chan. The five members are expected to support the Yoon government since all of them are known to be Yoon's allies.
The PPP held a vote with 461,313 of the 837,236 paying party members casting their ballots, registering an all-time high turnout of 55.1 percent.