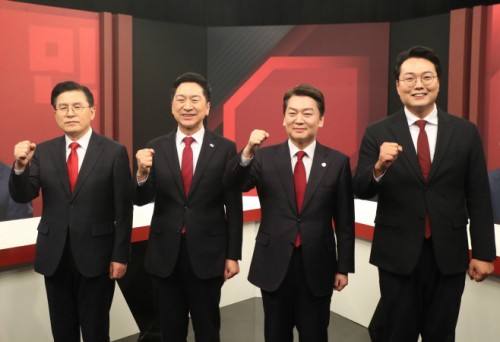 The candidates for the ruling People Power Party's (PPP) new leadership take a commemorative photo ahead of a TV debate at Channel A in Seoul on March 3, 2023. (From left) The candidates are Hwang Kyo-ahn, Kim Gi-hyeon, Ahn Cheol-soo, and Chun Ha-ram./ Source: Yonhap
AsiaToday reporter Kim Na-ri
The cumulative voter turnout among members of the ruling People Power Party (PPP) for the March 8 National Convention exceeded 47.51 percent, breaking an all-time high. Although vote through an automatic response system (ARS) has not been held yet, the figure has already exceeded the highest turnout ever of 45.36 percent in 2021.
According to the Central Party Election Commission on Sunday, 397,805 or 47.51 percent of 837,236 party voters cast their ballots in the mobile voting to select their new party leader. The figure is higher than that of the 2021 national convention in which former PPP leader Lee Jun-seok was elected, with a turnout of 36.16 percent at the time.
The highest turnout ever was the last national convention with 45.36 percent, including 36.16 percent of mobile votes and 9.2 percent of ARS votes. The national convention seems to be heating up as mobile voting has already broken the all-time record.
All the candidates of the PPP leadership race insisted that the high turnout for the national convention was in their favor.
Rep. Kim Gi-hyeon, who is favored by the so-called pro-Yoon faction, said, "The driving force behind the high turnout, which reached an all-time high on the first day of the vote, is the strong will of the party to end internal strife and unite, and succeed the Yoon Suk-yeol government based on stable leadership."
Rep. Ahn Cheol-soo and Chun Ha-ram claimed that the votes of non-Yoon faction were directed to them. "The anger of many members who were silent is being revealed by the high turnout," Ahn said at a press conference at the National Assembly. "The party members, who are tired of tyranny of Yoon's key officials, are raising their voice to kick Yoon's key officials and normalize the party," Chun said.
Analysts say that the number of electors for the party leadership election, which will be determined by 100% votes from party members, has more than doubled from the previous national convention two years ago, and the proportion of party members in their 20s to 40s has risen, making it difficult to predict the election results.
"The election will reflect the party members' desire to support President Yoon Suk-yeol who is struggling as the main opposition party is a majority," said political critic Hwang Tae-soon. "The higher the voter turnout, the more favorable it will be for Kim Gi-hyeon," he added.