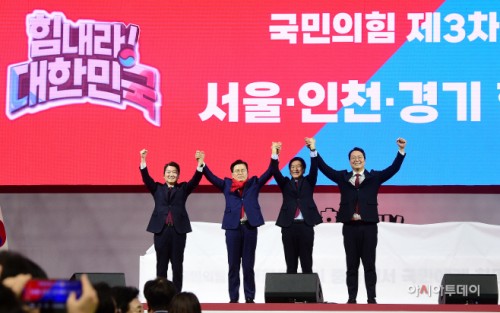 Ruling People Power Party leader candidates – (from left) Rep. Ahn Cheol-soo, former Prime Minister Hwang Kyo-ahn. Rep. Kim Gi-hyeon, and Chun Ha-ran, an attorney affiliated with ousted chair Lee Jun-seok – pose for a photo at the joint speech session of Seoul, Incheon and Gyeonggi Province held at Goyang Gymnasium in Gyeonggi Province on March 2, 2023./ Photographed by Lee Byung-hwa
AsiaToday reporter Chun Hyun-bin
The voting of party members for the March 8 National Convention to pick a new chairperson is only two days away, but the party's leadership race is still in fog. There seems many variables as the runoff vote has been introduced for the first time and the party leader is elected only by its party members, making it difficult to predict. Recent polls indicate that Rep. Kim Gi-hyeon, who ranked first in various polls, is the closest to the party's leadership. However, it remains uncertain whether he would end the election by winning the majority in the first round of voting. Besides, there is a possibility of solidarity between candidates.
Political observers say Rep. Kim, who is favored by the so-called pro-Yoon faction, is most likely to be elected. This is because there is a clear logic that Kim could be a leader of the ruling party to support the government's success as a candidate that has gained the Yoon Suk-yeol government's support. However, it is too early to affirm that Kim has won a clear victory as he has not won support by majority. He has expanded his influence by joining forces, however non-Yoon faction are joining forces as well. Besides, Kim's alleged preferential treatment of land in Ulsan, suggested by former Prime Minister Hwang Kyo-ahn, has become his biggest obstacle. Some observers say that if the run-off takes place, votes of the non-Yoon faction could gather, tightening the race.
The biggest point to watch is who will be the second runner. Candidates Ahn Cheol-soo, Chun Ha-ram, and Hwang Kyo-ahn are closely chasing Kim, and some polls showed that Chun overtook Ahn. This is because Chun has styled himself as a clear adversary of the pro-Yoon faction by stressing 'reform'. If one of the candidate Ahn and Chun goes to the runoff, the so-called Chun-Ahn solidarity can attract non-Yoon voters, putting burden for Kim.
Ahn believes that there is a plenty of room to reverse the situation in the final runoff, by winning swing voters' support who do not appear in the polls. Recently, Ahn has expressed dissatisfaction with the presidential office's involvement in the national convention, and is re-engaging with the ruling party's mainstream forces. It seems to be Ahn's strategy to absorb Chun's supporters, who advocate a reformist campaign during the runoff. Hwang's strategy seems to be bringing in traditional supporters overlapping with Kim, stressing "conservative legitimacy". This is why Hwang is highlighting suspicion over Kim's alleged profit accusations.
In the meantime, attention is being paid to how President Yoon Suk-yeol's attendance to the National Convention as the "first party member" will affect. Although Yoon's attendance seems to be intended to boost harmony and convention effects in the ruling party, there are also concerns that the controversial "Yoon's support" could be focused on certain candidates throughout the race. In fact, this is why some predict that Kim, who has gained Yoon's confidence, will gain more strength. President Yoon is reportedly preparing for a surprise event to create a festive mood. However, it remains uncertain whether he would stay until the results of the election are announced.