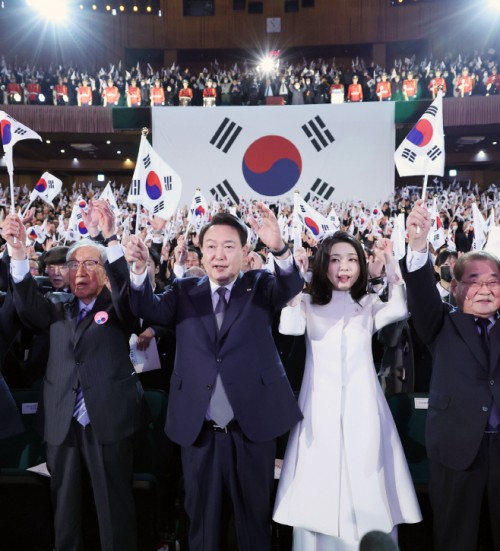 President Yoon Suk-yeol and first lady Kim Keon-hee wave Korea's national flag during a ceremony to commemorate the 104th anniversary of March 1 Independence Movement Day at Yu Gwan-sun Memorial Hall in Seoul on March 1, 2023./ Source: Yonhap
AsiaToday reporter Lee Wook-jae
"Japan has transformed from a militaristic aggressor of the past into a partner that shares universal values with us," President Yoon Suk-yeol said during his March 1 Independence Movement Day speech on Wednesday.
This contrasts sharply with the Independence Movement Day speech made by Yoon's predecessor, Moon Jae-in, calling Japan as a "perpetrator" of "crimes against humanity." Yoon focused on strengthening future-oriented cooperation with Japan, without mentioning pending bilateral issues.
Yoon made the remarks during a ceremony to commemorate the 104th anniversary of March 1 Independence Movement Day at Yu Gwan-sun Memorial Hall in Seoul.
In his speech, Yoon stressed global solidarity considering South Korea's situation facing global polycrisis. Political observers say that Yoon stressed "partnership" with Japan considering the major pending bilateral issues, such as compensating Korean victims of Japan's wartime forced labor and the Korea-Japan talks.
"Today, 104 years later, we must look back to that time when we lost our national sovereignty; the time when our people suffered because we failed to properly prepare for a changing world," Yoon said after reflecting on the historical meaning of the March 1 Movement in his speech. "If we fail to read the changing trends of world history and do not properly prepare for the future, it is evident that the misfortunates of the past will be repeated."
Recalling that Japan has become the country's partner unlike in the past, he said, "The trilateral cooperation among the Republic of Korea, the United States and Japan has become more important than ever to overcome the security crises including North Korea's growing nuclear threats and global polycrisis."
"We should stand in solidarity with countries that share universal values in order to contribute to promoting the freedom of global citizens and the common prosperity of all humankind. This is no different from the spirit that called for our nation's freedom and independence 104 years ago," the president said.
The president seemingly believe that the country should strengthen cooperation with Japan, which shares universal values such as liberal democracy, in order to protect its sovereignty just as the March 1 Movement took place for freedom and independence in the past, in response to new threats such as North Korea's nuclear weapons.
"The prosperity that we enjoy today is the result of our ceaseless efforts to defend and expand our freedom as well as our enduring belief in universal values," Yoon said. "Let us inherit the spirit of the Proclamation of Korean Independence and build a free, peaceful, and prospering future."