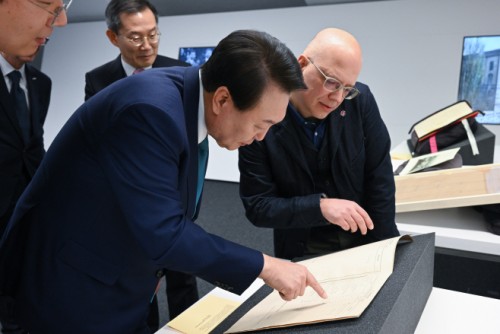 President Yoon Suk-yeol views a historical document related to Albert Einstein on the school register at the library of the Swiss Federal Institute of Technology before he meets with a group of quantum physicists at the university in Zurich on Jan. 19, 2023. / Source: Yonhap
AsiaToday reporter Kim Na-ri
President Yoon Suk-yeol held a luncheon Tuesday with young scientists on his first official schedule after wrapping up his trip to the United Arab Emirates and Switzerland.
The luncheon was held to explain the achievements of the science and technology tour as a follow-up measures to the trip to the UAE and Switzerland and exchange opinions with young researchers on policy directions in science and technology field. President Yoon had stressed the importance of science and technology and emphasized that he would work hard to foster talent during the Future Vision Forum in Dubai and his meeting with a group of quantum physicist at the Swiss Federal Institute of Technology.
On the last day of the Lunar New Year holidays, Yoon held a conversation with "Young Leaders of Science and Technology" at Nuri Hall in the presidential office in Yongsan, Seoul, where he shared opinions on the future development direction of science and technology. The luncheon lasted a total of two hours beyond the scheduled 90 minutes.
During the luncheon, Yoon said, "Science and technology are the starting points in all fields, including security and the economy," and stressed, "It is important to select and concentrate supporting areas that we can do best."
Yoon asked how the government should support each sector to secure competitiveness, citing the importance of participants' manpower as the first priority. To this end, opinions were suggested on attracting excellent overseas research institutes where excellent workers can gather, and establishing new research institutes where master and doctorate-level talented research personnel can continue research in areas where there is no direct demand from companies.
"It is very important to share roles with major countries such as the U.S. and to cooperate internationally to foster talent in order to create high value through this," Yoon said, ordering the Minister of Science and ICT to improve the national R&D funds to produce concrete results.
The event was attended by six promising researchers in artificial intelligence, space, advanced bio and quantum including prof. Jeon Byung-gon of Seoul National University, prof. Kim Sun-joo of Yonsei University, prof. Yoon Hyo-sang of KAIST, prof. Yoon Tae-young of Seoul National University, prof. Woo Jae-sung of KAIST, and prof. Son Young-ik of KAIST.