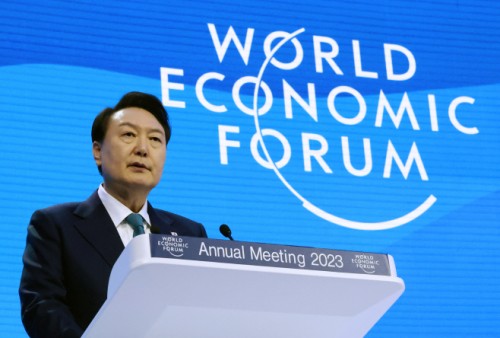 President Yoon Suk-yeol delivers a special address at the Annual Meeting of the World Economic Forum (WEF) in Davos, Switzerland, on January 19, 2023./ Source: Yonhap
AsiaToday reporter Lee Wook-jae
President Yoon Suk-yeol stressed that "the free trade system is a global public good that must never be given up" in a special address Thursday to the annual meeting of the World Economic Forum (WEF), which was held in Davos under the theme of "Cooperation in a Fragmented World."
During his speech, Yoon proposed "the way of solidarity" and said, "Building up walls and intensifying protectionism cannot be the right answer."
"The global supply chain has been fragmented by the pandemic, geopolitical conflicts, the rivalry for technological hegemony, and the weakening multilateral trade system, and the war in Ukraine has further exacerbated supply chain disruptions," he said.
"In the process of reorganizing the supply chain, cooperation in security, economy, and high-tech has become more likely to be blocked as a package among countries. Climate change crisis, health and digital gaps are threatening global civil liberties, peace and prosperity," Yoon said.
Yoon suggested "strengthened cooperation and solidarity" as a solution to overcome these challenges. He said that cooperation between governments and private sectors is essential, with the blurring of boundaries between security, economy and advanced scientific technologies.
"When our commitment to contributing to empowering global citizens to enjoy greater freedom and building the international community's prosperity translates into specific actions, we can indeed tackle the pressing challenges ahead of us," he said.
In the meantime, Yoon called for strengthening of global supply chain resilience, transition to a low-carbon economy, narrowing gaps in responding to health threats, and establishing a digital order.