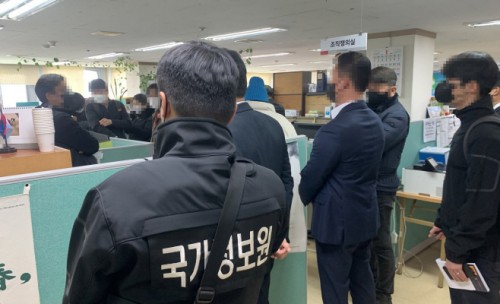 The National Intelligence Service and the National Policy Agency attempt to seize and search the headquarters of the Korean Confederation of Trade Unions (KCTU) in Jung-gu, Seoul, on Jan. 18, 2023./ Source: Yonhap
AsiaToday reporter Jeong Min-hoon
The National Intelligence (NIS) and the police, who have been investigating the recent formation of North Korean underground organizations in various parts of the country, raided the headquarters of the Korean Confederation of Trade Unions (KCTU) on Wednesday.
The nation's spy agency and police have obtained a search and seizure warrant for the KCTU from the court in connection with alleged violations of the National Security Law by some KCTU members.
The NIS launched the search and seizure due to the need for a forced investigation based on evidence obtained during the investigation.
The NIS has been reportedly investigating the case for several years. "The NIS is conducting a joint investigation with the National Police Agency into the suspects on charges of violating the National Security Act. We cannot confirm specific matters related to the investigation," an NIS official said.
Investigators from the NIS and police were confronted by KCTU officials when they attempted to search the KCTU office.
The NIS and police simultaneously raided several other locations across the country, including the office of the Korean Health and Medical Workers' Union, Jeju Sewol Ferry Memorial, and the houses of union members suspected of violating the National Security Act.
The NIS suspects that the director-level officials of the KCTU headquarters, who were on the search list, conducted anti-government activities after receiving orders from North Korean agents overseas.
Meanwhile, the KCTU strongly protested the NIS' investigation, saying that the NIS and police "unreasonably and forcibly" executed their search warrant.