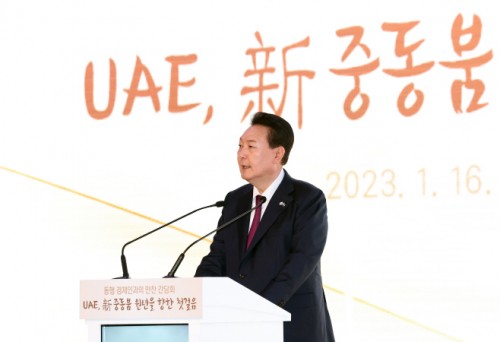 President Yoon Suk-yeol speaks during a dinner meeting with South Korean business leaders accompanying him on his state visit to the United Arab Emirates in Abu Dhabi on Jan. 16, 2023./ Source: Yonhap
AsiaToday reporter Lee Wook-jae
President Yoon Suk-yeol ended a four-day visit to the United Arab Emirates (UAE) and headed to Switzerland on Tuesday to attend the annual meeting of the World Economic Forum (WEF) in Davos, Switzerland.
Yoon attended the Future Vision Forum in Dubai on Tuesday, the last day of his state visit to the UAE. During the forum, he proposed ways to solve human issues through scientific and technological innovation and listened to the opinions of experts who attended the event.
Following the forum, Yoon moved to Switzerland to attend the WEF, also known as the Davos Forum.
It is the first time in nine years that a Korean president has attended the Davos Forum since former President Park Geun-hye in 2014. Yoon plans to present international solidarity measures and clarify Korea's role in a special address at the forum on Thursday.
Prior to the forum's special address, Yoon will hold a meeting with business leaders of domestic and foreign companies on Wednesday to discuss investment cooperation in Korea.
The president will meet scholars at the Zurich University of Technology before returning home on Saturday, the first day of the Lunar New Year holidays.