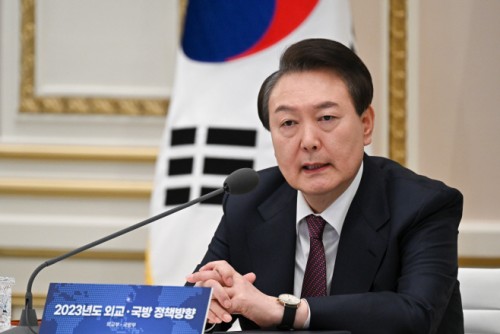 President Yoon Suk-yeol speaks during a New Year briefing by foreign and defense ministries at Yeongbingwan guesthouse in Jongno District, Seoul, on Jan. 11, 2023./ Courtesy of presidential office
AsiaToday reporter Kim Na-ri
President Yoon Suk-yeol called for strengthening South Korea-U.S. joint drills to respond to North Korea's nuclear and missile provocations.
During a New Year briefing by foreign and defense ministries at Cheong Wa Dae on Wednesday, Yoon said, "Peace that relies on the other side's good intentions cannot be sustained, and that cannot be called genuine peace." Yoon was quoted as saying, "In order to deter North Korea's threats more practically and effectively, we should strengthen cooperation with the U.S. in each segment of the extended deterrence, and strengthen Seoul's three-axis defense system."
Yoon said, "We are a peace-oriented country, so we will never engage in an invasion war," but added, "We should be fully prepared to exercise our right to self-defense against provocations that threaten our freedom and peace."
The president urged soldiers to have the mindset that training and education is equivalent to a military operation. "Training refers to practice in preparation for effective war," he said, urging the military to think innovatively so that they can carry out war preparatory exercises systematically and effectively.
On the joint response with the United States to North Korea's nuclear weapons program, the president said, "Close cooperation between South Korea and the United States through joint planning and joint implementation in curbing strong expansion and operating nuclear assets is possible because both countries have the same interests in each other's security interests, not the U.S. protecting our security."
In an interview with the Associated Press (AP), Yoon said, "It's right for South Korea and the United States to cooperate because both of us are exposed to the North Korean nuclear threat. The discussions are under way over the so-called joint planning and joint execution." When asked for further clarity, he said the proposed plans include "tabletop exercises, computer simulations and drills on delivery means for nuclear weapons."