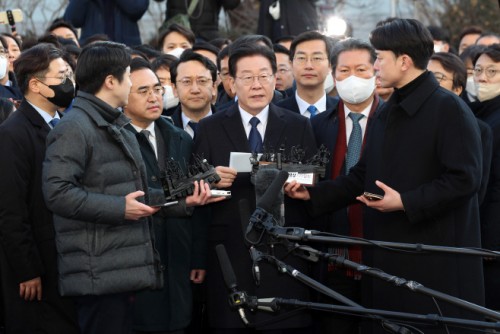 Opposition leader Lee Jae-myung speaks to reporters at the Seongnam Branch of the Suwon District Prosecutors Office, located just south of Seoul, on Jan. 10, 2023./ Source: Yonhap
AsiaToday reporter Jeong Min-hoon
An unprecedented event occurred in which the sitting head of the main opposition party leader was summoned to the prosecution.
Lee Jae-myung, chairman of the main opposition Democratic Party (DP), appeared at the Seongnam Branch of the Suwon District Prosecutors Office for questing over bribery allegations surrounding corporate donations to a football club while he was serving as the mayor of Seongnam. He arrived at the prosecutor's office at 10:20 a.m., saying, "Right now, we are standing at the site of the first time in the history of the Republic of Korea's constitution. This place will go down in history."
Lee strongly criticized the prosecution's investigation, saying, "The prosecution is overusing warrants and overusing the right to prosecute investigations with a fabricated investigation aimed at eliminating the political enemy." Lee claimed the prosecution has already decided to indict him, saying, "There is no point in explaining the truth to the prosecution.
Prosecutors intensively questioned Lee on third-party bribery allegations by checking evidence such as internal documents obtained through search and seizure of internet portal giant Naver Corp. and other companies, as well as statements by officials from companies that gave donations to the municipal football club.
Yoo Min-jong, the third chief of the Criminal Affairs Department in charge of the case, attended the investigation in person to ask if there was any illegal solicitation behind corporate donations. Ahead of the investigation, the prosecution reportedly reviewed and analyzed all past third-party bribery cases to prepare against Lee's rebuttal logic.
As soon as the investigation is over, the prosecution will review whether to deal with Lee. Based on the evidence and statements secured so far, the prosecution, which has shown confidence in the probe, is likely to decide whether to indict or not.
In addition, the prosecution is expected to finalize the investigation of companies that gave large donations in connection with the Seongnam FC donation allegations. However, as the investigation into individual companies such as Naver has not been completed, further investigations on other firms are expected after Lee's summoning.
Meanwhile, a large crowd of supporters and detractors gathered at the Seongnam branch office.