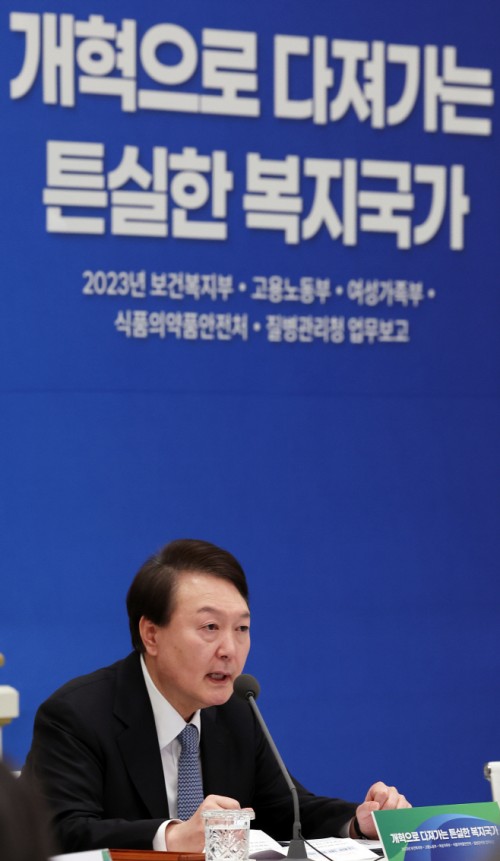 President Yoon Suk-yeol speaks during a policy briefing from the welfare ministry, labor ministry, gender equality ministry, food and drug safety ministry, and the disease control and prevention agency at Cheong Wa Dae in Seoul on Jan. 9, 2023./ Source: Yonhap
AsiaToday reporter Lee Wook-jae
President Yoon Suk-yeol stressed Monday that the government's welfare and labor policies should "never be affected by politics, elections or political blocs."
Yoon made the remark during a joint New Year's policy briefing by the welfare ministry, labor ministry, gender equality ministry, food and drug safety ministry, and the disease control and prevention agency at Cheong Wa Dae.
On welfare policy, Yoon said, "Since the 20th century, welfare has grown as it has been influenced by politics. Welfare has also affected politics a lot. I think the starting point of welfare is to find the weakest in the society and to ensure that such people can maintain their dignity and values under the constitution."
On labor policy and reform, he said, "We need to flexibly adapt to the demand base that requires labor, and there should be a similar level of compensation system between labor and management."
"It is for the people to upgrade flexibility and fairness, labor-management rule of law, and safety issues in industrial sites, and to convert what is wrong into common sense," he said. "It is not for political purpose or anything."
Regarding his presidential pledge of abolishing the Ministry of Gender Equality and Family, he said, "In order to strengthen the protection of women, families and adolescents, the functions of other ministries were previously separated and combined with the gender ministry, but the government's organization law was revised in the hope that the government should restore it to its original state and establish a large organization in terms of manpower and budget to strengthen the actual protection of women, teenagers and families."
"As long as the gender ministry exist, the protection of the state should be strengthened in such philosophy and principles," he added.
Yoon ordered the food and drug safety ministry to "look carefully for unnecessary regulations that hinder the development of related industries," and instructed the disease control and prevention agency to "think only about the health and safety of the people and don't consider diplomacy, economy, trade and politics at all."