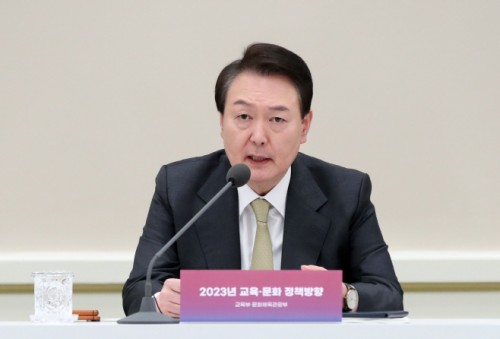 President Yoon Suk-yeol speaks during a joint policy briefing by the Culture and Education ministries at Cheong Wa Dae in Seoul on January 5, 2023./ Source: Yonhap
AsiaToday reporter Lee Wook-jae
With the emphasis on "market" and "export" in the Yoon Suk-yeol administration's policy briefing for the New Year, industry observers say that President Yoon Suk-yeol will embark on a broadening 'sales diplomacy' in the new year.
While Prime Minister Han Duk-soo, who chairs the Regulatory Reform Committee, is expected to improve various regulations at home, President Yoon Suk-yeol is expected to carry out diplomatic activities abroad and support Korean companies' export orders. President Yoon plans to kick off his sales diplomacy at the World Economic Forum (WEF, also known as Davos Forum), where major business leaders around the world will attend.
According to the presidential office on Sunday, President Yoon turned around the halfway point by receiving New Year briefings from 10 out of 18 ministries, starting with the Ministry of Economy and Finance on December 21.
So far, the goal that ministries have commonly mentioned while reporting this year's implementation plan is "export promotion'. For example, the Ministry of Environment proposed to win overseas orders for the green industry worth 20 trillion won beyond its 'traditional' duties such as environmental protection. It can be seen as evidence that the government is pushing to revive the business and economy.
As a result, attention is naturally paid to the upcoming Davos Forum, which will be held in Switzerland from Jan. 16-20. When Yoon was elected as President, he said he will "definitely attend" the forum after receiving an invitation from the forum's chairman Klaus Schwab. Political observers say Yoon will attend the forum, which will be attended by business leaders around the world, and engage in sales diplomacy. If Yoon visits Switzerland, he may plan a visit around the forum.
In addition, the fact that there are a number of diplomatic anniversaries, such as the 70th anniversary of the Korea-U.S. alliance, is expected to contribute to Yoon's wide-ranging diplomatic moves.
As President Yoon and U.S. President Joe Biden agreed to expand bilateral relations from a traditional military and security alliance to an economic and security alliance at the Korea-U.S. summit in May, some expect agreements directly related to bilateral interests in high-tech industries. At the time of the summit, Yoon said, "The two countries will work together to expand mutual investment and stabilize supply chains in strategic industries such as semiconductors and batteries."
In addition, there are many diplomatic schedules, such as the 140th anniversary of diplomatic relations between South Korea and the UK, the 50th anniversary of Korea-India diplomatic ties, the 40th anniversary of Korea-Pakistan diplomatic ties and more.
President Yoon, the first South Korean president to attend the NATO summit and achieve sales diplomacy in the nuclear, defense and infrastructure sectors, is expected to attend the upcoming NATO summit in Vilnius, Lithuania, in July this year. He is also expected to attend the G20 summit in New Delhi, India, and the United Nations General Assembly in New York in September.