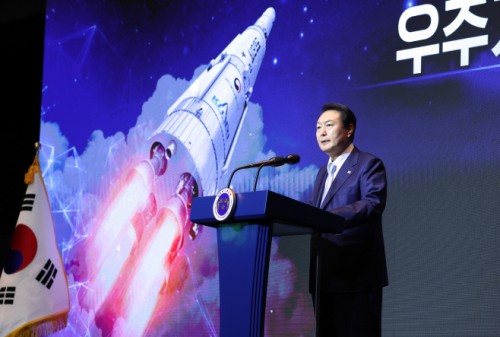 President Yoon Suk-yeol announces Korea's Future Space Economy Roadmap during an event at the JW Marriot Hotel in Seoul on Nov. 28, 2022./ Source: Yonhap
AsiaToday reporter Lee Wook-jae
South Korean President Yoon Suk-yeol unveiled a roadmap for the country's 'Future Space Economy' on Monday, saying, "The dream of becoming a powerhouse in space is not distant, and will be an opportunity and hope for children and the youth."
Yoon attended the "Future Space Economy Roadmap Declaration Ceremony' held at the JW Marriot Hotel in Seoul and said, "A country having a space mission will lead the world economy and be able to resolve challenges human beings are facing."
Yoon promised to gift future generations lunar resources and base on Mars, developing within the next five years an engine for a launch vehicle that can fly to the moon, starting mining lunar resources in 2032, and landing on Mars in 2045, when the country will celebrate its 100th anniversary of independence from Japanese colonial occupation.
To facilitate the roadmap, Yoon presented six major policy and support plans to achieve the goals, including exploration of the moon and Mars, becoming a space technology powerhouse, fostering space industry, training professionals, bolstering national security through space and leading international cooperation for space programs.
The government decided to establish the Korea Aerospace Administration (KASA) and the president will chair the national space committee to prepare for the era of the space economy.
The Ministry of Science and ICT said it launched a team dedicated to setting up the KASA and began preparations for the opening of the KASA.
Following Yoon's announcement, nearly 70 domestic companies related to space development, such as Hanwha Aerospace, LIG Nex1, and KT SAT, announced the 'Joint Declaration for the Realization of the Space Economy' to actively participate in opening the era of the Korean space economy.