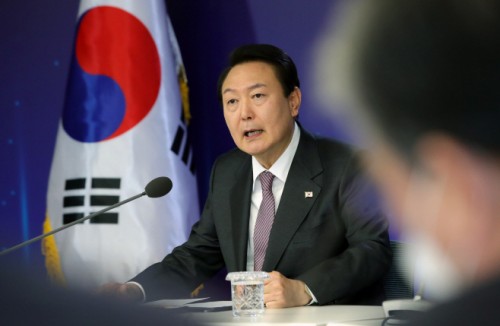 President Yoon Suk-yeol speaks at the inaugural meeting of export strategies at the Korea Trade-Investment Promotion Agency (KOTRA) in Seoul on Nov. 23, 2022./ Source: Yonhap
AsiaToday reporter Lee Wook-jae
President Yoon Suk-yeol said Wednesday all areas and policies including industrial strategies and financial systems must be realigned toward the goal of boosting exports.
Yoon made the remark while presiding over the inaugural export strategy meeting at the Korea Trade-Investment Promotion Agency (KOTRA) headquarters in Seoul. "In order to overcome the current instability of the external economy and the volatility of the financial market, we must take the export drive," Yoon said.
"Decoupling of the supply chain is intensifying due to the U.S.-China rivalry and the war in Ukraine, and the block pattern is becoming clearer as the free trade system shrinks," he said. "In this situation, we cannot tell private enterprises to do it on their own."
The president stressed the need to expand exports, saying, "For this to happen, the government's attitude must be completely changed."
"All public officials, from high-ranking officials to working-level officials, should fundamentally move away from the idea that the government is a regulatory body and recognize that it is an organization that helps enterprises," Yoon said. "The president's diplomacy should be completely concerned with economy and security. Excluding diplomatic activities for the Korean Peninsula, all overseas trips should be thoroughly focused on business issues, such as acquiring resources to stabilize the supply chain."
Yoon told the cabinet members to put business issues their priority when traveling abroad or meeting foreign guests in Korea. He also pledged to actively reflect business issues that require governmental help in the diplomatic activities if the private sector conveys them through various channels.
He said that Korea should seize the complex global environment as an opportunity to become one of the world's top five export powerhouses.