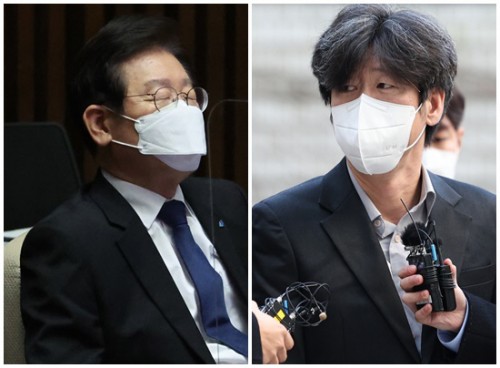 The main opposition Democratic Party chairman Lee Jae-myung (left) and Daejang-dong real estate developer and lawyer Nam Wook/ Source: Yonhap DB
AsiaToday reporter Kim Im-soo
The prosecution's investigation into alleged corruption in land development projects appears to be heading toward main opposition Democratic Party leader Lee Jae-myung. Two of Lee's close aides have been arrested, and private developers of the Daejang-dog land development have made a revelation in court. Some even say that prosecutors may start locating opposition leader Lee's whereabouts next month after the regular session of the National Assembly ends.
The Seoul Central Prosecutors Office's anti-corruption investigation team raided the Gyeonggi provincial government, where DP leader Lee and his close aide Jeong Jin-sang had worked. The prosecutors seized email records of Jeong, who worked as a senior policy secretary to Lee from 2018 to 2021 while he served as the governor of Gyeonggi Province.
Jeong is accused of accepting about 140 million won (US$106,000) in bribes on six occasions from Yoo Dong-gyu, a former executive of Seongnam Development, in return for offering business favors. He is also accused of getting a promise to receive a 24.5 percent (nearly 42.8 billion won) equity in Cheonhwadongin No. 1, along with Kim Yong, another close confidant of Lee's and vice president of the Institute for Democracy, a think tank of the Democratic Party.
Lawyer Nam Wook, who owns Cheonhwadongin No. 4, said Monday that the stake in Cheonhwadongin No. 1 belongs to Lee Jae-myung's office. The lawyer made the allegations during a hearing at the Seoul Central District Court, hours after being released from prison on Sunday. Speaking to reporters, Nam said his recent flurry of testimonies reflect his desire to only be punished for his wrongdoings and not those of others. "I have no intention of falsely blaming others with untrue statements. I do not woant to bear responsibility for things I did not do," the lawyer said.
Prosecutors view the charges against Kim and Jeong as 'taking personal gain by privatizing the power of local autonomy'. They believe that Lee, who was the head of the local government by then, must have been aware of this process, and that he had been at least involved or benefited. Investigation towards Lee seems inevitable following Nam's testimony.
Some predict that the prosecution may begin locating Lee's whereabouts around mid-December when the regular National Assembly ends. As Lee is an active member of the National Assembly, prosecutors must obtain consent from the National Assembly for Lee's possible arrest so that a forced probe is launched afterwards.
DP leader Lee criticized the prosecution's investigation towards himself. An official from the prosecution said it is a malicious political frame to criticize the prosecution's investigation without specific evidence.