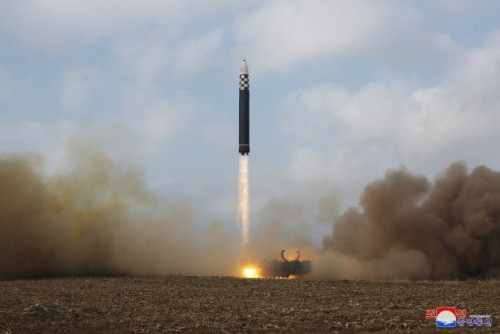 North Korea test-fired a new intercontinental ballistic missile (ICBM), the Hwasong-17, under the guidance of North Korean leader Kim Jong-un, the North's official Korean Central News Agency (KCNA) and the Rodong Sinmun reported on Nov. 19, 2022./ Source: Yonhap News
AsiaToday reporter Park Young-hoon
North Korea has boasted that it has successfully launched a new intercontinental ballistic missile (ICBM), the Hwasong-17, and claimed it has the strongest ICBM on the planet. The North test-fired the Hwasong-17 on Sunday with North Korean leader Kim Jong-un in attendance. The international community condemned the North's launch and began preparing immediate countermeasures.
The Rodong Sinmun, the official newspaper of the North's ruling Workers' Party, on Sunday claimed in an editorial that the North will never give up the path of nuclear armament unless the United States drops its hostile policy against the North and its nuclear threats are eradicated. "As hostile powers intensify their aggressiveness, we will accelerate strengthening the nuclear power," it said.
The report is seen as claiming that joint military drills carried out by Washington and Seoul are responsible for the escalation of tension on the Korean Peninsula, and that North Korea's nuclear weapons advances is a self-defensive measure in response.
The international community has begun to prepare countermeasures. The United Nations Security Council will hold an emergency meeting in New York on Monday (local time) to discuss countermeasures against the North's recent ICBM launch. South Korea will participate in the session as a country directly involved in the issue, according to a diplomatic source. The government is expected to condemn the North's repeated violations of Security Council resolutions while emphasizing the need for the international community to send a stern message,
In particular, discussions on countermeasures against the North's ICBM launch will be held in depth. The U.S. is taking the launch of the Hwasong-17 very seriously. The Hwasong-17 ICBM reached an altitude of nearly 6,100 kilometers over a distance of nearly 1,000 kilometers. It has a range of around 15,000 kilometers, a range long enough to reach the U.S. mainland.
In this regard, the U.S. mission to the United Nations said in a rare statement that the North must be held accountable for violating relevant Security Council resolutions. However, it remains unclear whether China and Russia will cooperate in strengthening sanctions against the North at the Security Council level. Back in May, China and Russia exercised their veto right over the adoption of new resolutions on the North Korea sanctions related to its ICBM launch.