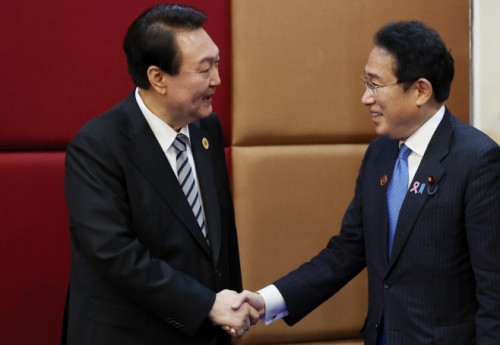 President Yoon Suk-yeol and Japanese Prime Minister Fumio Kishida shake hands during their summit at a hotel in Phnom Penh on Nov. 13, 2022./ Source: Yonhap
AsiaToday reporter Kim Na-ri
President Yoon Suk-yeol and Japanese Prime Minister Fumio Kishida agreed to seek a quickly resolve the issue of compensation for Korean victims of wartime forced labor during their summit. Attention is focused on whether the tight Korea-Japan relations can take a step forward in a future-oriented way.
"We have injected a strong impetus into ongoing negotiations between the two countries as the two sides affirmed their clear commitment to resolving a pending issue between the two countries," a high-ranking official in the presidential office said at the first formal summit between Yoon and Kishida on Wednesday.
"There are quite intensive discussions about the solution to the forced labor issue," the official said. "We have been briefed that the forced labor issue is being resolved at the working-level, and since the gap has been greatly reduced, it can be interpreted as a positive consensus to find a way to quickly resolve the issue and swiftly settle the issue," he added.
"The overall tone was that we should move more quickly, and that the two leaders should pay closer attention and lend further support to induce not only a resolution of the forced labor issue but also an improvement in South Korea-Japan relations," the official said.
"The two leaders also formed a consensus that if the forced labor issue is resolved, other issues such as the withdrawal of Japan's export restrictions on Korea, the return of the 'white list', and the comfort women issue can be resolved at once," he said. "The issues of export regulations, General Security of Military Information Agreement, forced labor and Japanese military sexual slavery are all connected."
"That is why President Yoon also said that a comprehensive solution is needed," he said. "Both sides had a consensus to solve the 'Gordian knot' in the forced labor issue," he added.