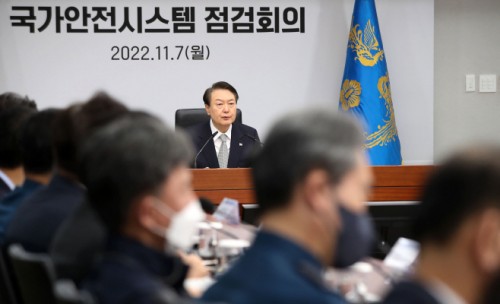 President Yoon Suk-yeol speaks during a meeting on the national safety system at the presidential office in Yongsan District, Seoul, on Nov. 7, 2022./ Source: Yonhap
AsiaToday reporter Lee Wook-jae
President Yoon Suk-yeol strongly rebuked the police Monday for its poor response to the deadly Itaewon crowd crush, saying, "It is beyond common sense that the police were not aware that more people were expected to come."
Yoon made the remarks while presiding over a national safety system inspection meeting held behind closed doors at the presidential office in Yongsan, according to deputy presidential spokesperson Lee Jae-myoung. The meeting was held to review national safety system.
"If people started to gather early in the evening and the first 112 call came in at 6:34, the situation must have been like hell," Yoon said at the meeting. "How can you say in that situation that police had no authority?"
Yoon pointed out that the main road should have been blocked if crowd levels reached a dangerous point. "Who is responsible for preventing safety accidents? The police. It is up to the police to sense the danger."
"The police have remarkable information capabilities. Why were they watching blankly for four hours? They were at the scene. They should have taken action even if there were no call to 112. How can you say you couldn't respond because of poor system?"
"Did the Itaewon tragedy happen because of poor system? I do not understand," the president said. "The president serves as the safety control tower but in order to be effective, it is important for authorities to report a situation promptly."
His remarks are seemingly based on his judgment that the police's response to the tragedy was poor. Besides, the fact that Yoon strongly criticized the police and disclosed it in the presidential office is expected to lead to a major reform of the police.
"The government will thoroughly review the systems related to various disasters and accidents and boldly improve the structural problems that have piled up one after another," Yoon said. "In order to protect the public, a massive overhaul is needed of police duties focused on the prevention of accidents and emergency preparations to protect the public."