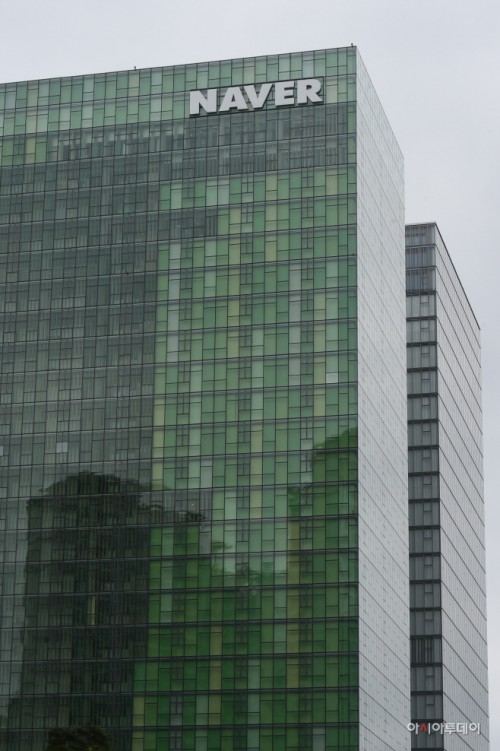 Naver headquarters in Pangyo, Gyeonggi Province./ Photographed by Jung Jae-hoon
AsiaToday reporter Chun Hyun-bin
Shares of South Korean internet giant Naver Corp. fell sharply after the company was swept in several controversies including moral hazard behavior by some executives. Major domestic securities firms have lowered their target price for the internet titan. This is because the valuation of Naver, one of the main growth stocks, has fallen as global tightening has been prolonged, and concerns about growth slowdown have increased due to the firm's acquisition of online fashion reseller Poshmark Inc.
According to the e-disclosure of the Financial Supervisory Service (FSS) on Wednesday, Naver's Responsible Leader Lim Joon-hyun sold a total of 815 shares of Naver from Sept. 23 to Oct. 7. Among them, 575 shares were sold prior to the announcement of the acquisition deal. Another Responsible Leader Kang Tae-eun also announced that he had recently sold 1,400 shares. Of them, 800 shares were sold from Sept. 23 to 28 before the acquisition announcement. Naver's Responsible Leaders are non-registered executives who are assigned middle manager roles. They renew their contracts every year and must disclose their holdings.
Both executives started selling their shares when Naver stocks were trading between 200,000 won and 210,000 won per share. They sold most of their shares just before Naver's announcement to buy Poshmark in a deal valued at about $1.6 billion. However, Naver insisted, "This is for repayment of loans for exercise of stock options and has nothing to do with the acquisition of Poshmark."
Naver's shares fell following the Poshmark deal. According to the Korea Exchange, Naver's stock price plummeted by 8 percent from Oct. 4 to 12 when the news was announced. On Oct. 11, Naver shares broke the 160,000-won level on the closing price and hit new 52-week bottom on doubts about Poshmark deal and macro environment.
"Naver's profitability shone after the pandemic with its stable advertising revenue and successful commerce strategy," said Meritz Securities researcher Lee Hyo-jin. "However, the stock price has fallen by 60 percent over the past year as the rising overall IT labor costs and new business losses met the rapidly shrinking economy."
Concerns over a decline in Naver's profitability due to the Poshmark acquisition are expected to be reflected gradually in the market. "Despite solid separate commerce profitability, it is disappointing that company-wide commerce profitability fell due to the acquisition of U.S. reselling platform Poshmark," Lee said. "Poshmark's 1H deficit exceeded 50 billion won, equivalent to 10 percent of Naver's consolidated operating profit in 2023 on an annualized basis."
Major domestic securities firms have predicted a target price of Naver in the range of 250,000 to 380,000 won. Samsung Securities lowered its target price for Naver from 350,000 won to 280,000 won while Korea Investment & Securities from 330,000 won to 300,000. This is because concerns have grown over a slowdown in 2H earnings due to the economic downturn.
"Due to the domestic economic slowdown, Naver's 2H earnings will fall short of market expectations," said Samsung Securities researcher Oh Dong-hwan. "Naver's 3Q operating profit is expected to drop 7.7 percent from the same period last year to 322.7 billion won, below the market consensus by 9.1 percent."
However, some believe that the evaluation of the Poshmark acquisition price will be judged depending on the management improvement after the completion of the acquisition and the synergy with Naver. "The appropriateness of the acquisition price can only be judged by the management improvement after the acquisition and the synergy with Naver," Oh said.