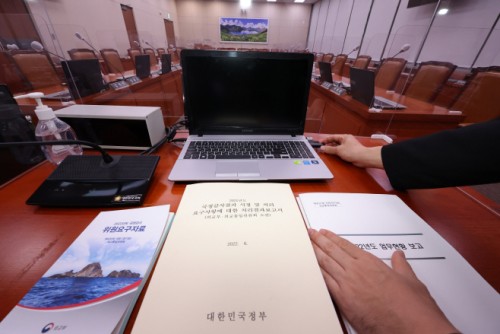 An official is installing the National Audit data on the laptop of the chairperson of the National Assembly Foreign Affairs and Unification Committee in Yeouido, Seoul, on Oct. 3, 2022./ Source: Yonhap
AsiaToday reporter Chun Hyun-bin
The confrontation between the ruling and opposition parties, which started with the controversy over President Yoon Suk-yeol's supposed use of crude language, is deepening. There are expected to be political battles between the rival parties in the upcoming parliamentary audit, which begins on Tuesday.
Sparked by the controversy over Yoon's remarks during his overseas trip, the confrontation between the ruling People Power Party (PPP) and the main opposition Democratic Party (DP) is now leading to another round of dispute with the state audit agency's attempt to question former President Moon Jae-in over a South Korean fisheries official's death. The conflict is further intensifying as Yoon rejected a DP-passed motion urging Foreign Minister Park Jin to step down.
For this reason, observers say the political battle would continue in the upcoming parliamentary audit rather than verifying and pointing out policies. Amid the conflict between the rival parties due to the Yoon's remarks controversy, the conflict intensified even further after the Board of Audit and Inspection (BAI) notified Moon of its plan to question him in writing about his administration's alleged mishandling of the case of a South Korean fisheries official killed by North Korea in 2020.
Such a confrontation is expected to peak at the National Assembly's audit of the Ministry of Foreign Affairs scheduled for Tuesday. The DP plans to press for Park's voluntary resignation, criticizing Yoon's refusal to dismiss the foreign minister as a "parliamentary passing". The main opposition party is expected to highlight Yoon's overseas trip as a diplomatic debacle, framing the Yoon administration as incompetent.
In response, the PPP plans to urge the opposition camp to immediately stop the instigation. Besides, the ruling party is expected to criticize the DP's rush to dismiss the foreign minister during U.S. Vice President Kamala Harris' visit to South Korea. Besides, the PPP is likely to ramp up pressure against the opposition party over the fisheries official's death under the former President Moon Jae-in government.
The DP is also expected to re-emphasize the suspicion of winning a private order for President Yoon's relocated residence and raise suspicions of meddling in the interests of Monk Geonjin, an acquaintance of First Lady Kim Keon-hee.