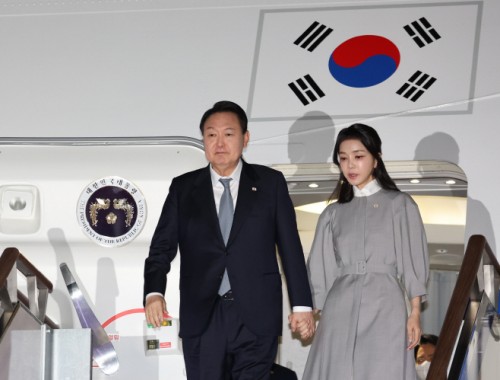 President Yoon Suk-yeol and first lady Kim Keon-hee arrive at Seoul Airport in Seongnam, Gyeonggi Province, on Sept. 24, 2022./ Source: Yonhap
AsiaToday reporter Lee Wook-jae
President Yoon Suk-yeol wrapped up his hectic seven-day trip to the United Kingdom, the United States and Canada.
The presidential office revealed Sunday that the trip had diplomatic achievements in five sectors – the new government's foreign policy principles have been promoted, pending issues have been resolved with the heads of countries and building trust has been sought, high-tech industries and startups have been attracted, the supply chain for high-tech industries have been strengthened, and the foundation for cooperation in science and technology and future growth industries have been built.
First, Yoon expressed South Korea's willingness to actively contribute to resolve the international problem of global transformation by presenting freedom and solidarity, in his keynote speech at the 77th U.N. General Assembly. He also attended the state funeral of Queen Elizabeth II in London, and strengthened solidarity and cooperation with key allies through the summit with Canada.
During a meeting with US President Joe Biden, Yoon conveyed South Korea's concerns about the Inflation Reduction Act (IRA) and received a promise from the US to review it. The Korea-Japan summit, held for the first time in two years and nine months, is expected to serve as a cornerstone for the recovery of the strained bilateral relations. In addition, the Korea-Germany summit and the Korea-Canada summit have raised expectations for cooperation in the global supply chain. The government plans to strengthen cooperation on economic and security through key mineral cooperation MOUs signed during the overseas trip.
One of the major achievements of the tour is that South Korea has drawn investment worth a combined US$1.15 billion from seven global firms, including Applied Materials, DuPont, and Entegris. This is the largest ever investment reported since 2002 on the occasion of a presidential visit.
In addition, Yoon attended a digital forum and signed a MOU with Canada for cooperation in the artificial intelligence R&D, laying the foundation for cooperation in science and technology as well as future growth industries with allies. "We plan to materialize the 'Korea Digital Strategy' soon and hold the 'World Conference on Korean Scientists and Engineers' in Korea to provide a platform for exchange and cooperation among Korean scientists while supporting the attraction of excellent foreign scientists to Korea," the presidential office said.