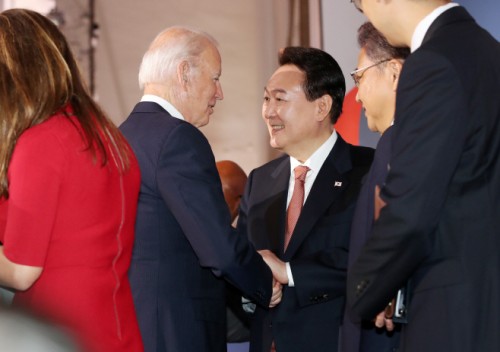 President Yoon Suk-yeol and U.S. President Joe Biden talk after the seventh financial pledge meeting of the Global Fund in New York on Sept. 21, 2022./ Source: Yonhap
AsiaToday reporter Lee Wook-jae
President Yoon Suk-yeol and U.S. President Joe Biden have both ordered their national security councils (NSC) to review issues related to the U.S. Inflation Reduction Act (IRA), implementation of liquidity facilities such as currency swap, and extended deterrence of North Korean threats.
A high-ranking official at the presidential official said at a press briefing that the two leaders gave such an order after meeting in New York on Thursday.
According to the presidential office, the two leaders met three times over the last four days. They first met during a reception hosted by King Charles III in London on Sunday, and again at the seventh financial pledge meeting of the Global Fund in New York on Wednesday, and lastly at a reception hosted by Biden and U.S. first lady Jill Biden later on the day.
Although the Korea-U.S. summit did not officially take place, the presidential office said that the two countries came up with relatively detailed results through the NSC review in advance.
The IRA excludes electric vehicles assembled outside North America from tax incentives. Regarding the enforcement of the IRA, Yoon explained to Biden the concerns of the Korean automakers. "President Yoon called for close cooperation between Washington and Seoul in the process of enforcing the IRA so as to resolve our concerns," the presidential office said.
"In response, Biden said he is well aware of our concerns, and that South Korea and the U.S. should continue to hold serious consultations," it added.
The two countries also agreed to continue advanced discussions on the currency swap deal, which has been emerged as one of countermeasures to the high exchange rate issue. During the Yoon-Biden summit held in Seoul back in May, the two leaders agreed to closely cooperate on foreign exchange market trends. This time, they have reached an advanced agreement on the implementation of liquidity facilities.
"They made it clear that it was 'implementation of liquidity facilities', which was initially 'cooperation in the foreign exchange market'," chief presidential secretary for economic affairs Choi Sang-mok said.
"There are various types of liquidity facilities," Choi said, adding, "It will be materialized through consultations with the foreign exchange authorities."
In addition, Yoon and Biden positively evaluated that the two sides are discussing extended deterrence against North Korea, and agreed to further strengthen cooperation between the two countries to curb North Korea's weapons ambitions and come up with joint countermeasures against North Korean provocations.