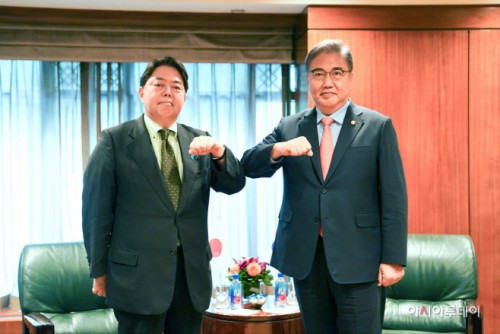 South Korean Foreign Minister Park Jin and his Japanese counterpart, Yoshimasa Hayashi, meet and exchange elbows at a hotel in Manhattan, New York, USA on Sept. 19, 2022./ Source: The Ministry of Foreign Affairs
AsiaToday reporter Kim Na-ri
Amid subtle tensions between South Korea and Japan over a possible summit between the two countries, the foreign ministers of both countries met on Monday to discuss the issue of compensating Korean forced labor victims during Japan' colonial rule of the Korean Peninsula.
South Korean Foreign Minister Park Jin and his Japanese counterpart, Yoshimasa Hayashi, had a 50-minute talks at a hotel in New York on Monday.
Park called for Tokyo's sincere efforts toward an early resolution of wartime labor compensation. Although the specific response of the Japanese side to the matter is unknown, the South Korean foreign ministry said the Japanese side listened seriously to the matter and exchanged opinions in depth.
However, the two sides reportedly failed to draw a resolution on the wartime labor issue. After the bilateral meeting, Japan's foreign ministry said in a statement that Hayashi expressed the country's 'consistent position,' referring to the Japanese government's claim that all the compensation for Koreans forced to work was settled completely and finally under a bilateral agreement signed in 1965.
Apart from the compensation issue, the two diplomats discussed ways to build a future-oriented partnership, such as cooperation on the North Korean nuclear issue, security cooperation among South Korea, Japan and the US, and revitalization of people-to-people exchanges between the two countries. The meeting was held to check major issues in advance for a possible summit between South Korean President Yoon Suk-yeol and Japanese Prime Minister Fumio Kishida on the sidelines of an annual U.N. General Assembly session in New York.
Both sides remained silent for a possible Seoul-Tokyo summit in New York. When asked if a Korea-Japan summit would be held, Park avoided an immediate answer, answering, "Both sides decided to work hard with sincerity." Japan's Hayashi said, "Nothing has yet been decided."
The presidential office took a cautious position over the possible summit, saying "no comment." However, Japanese Prime Minister Fumio Kishida said, "Nothing has been decided."