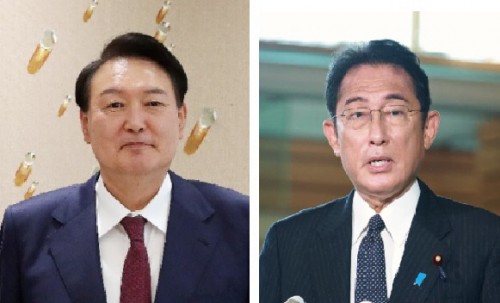 The image shows South Korean President Yoon Suk-yeol (left) ad Japanese Prime Minister Fumio Kishida./ Source: AFP/Yonhap News
AsiaToday reporter Kim Na-ri
President Yoon Suk-yeol will hold a bilateral summit with Japanese Prime Minister Fumio Kishida on the sidelines of the UN General Assembly in New York next week. Yoon will also have a one-on-one meeting with US President Joe Biden.
"We are pushing to arrange some bilateral talks with leaders of major countries attending the UN event FROM Sept. 20 to 21," Kim Tae-hyo, the first deputy director of the National Security Office, said at a press briefing on Thursday. "At the moment, we have reached agreements in holding South Korea-US and South Korea-Japan summits and are now arranging the times."
The Korea-Japan summit will be the first of its kind in nearly three years since former President Moon Jae-in met with then-Japanese leader Shinzo Abe in December 2019 in Chengdu, China. Yoon and Kishida first met in person during the North Atlantic Treaty Organization Summit in Spain in June. Both leaders crossed paths several times, but a bilateral meeting did not take place.
"South Korea and Japan gladly agreed on having a summit this time. However, the agenda of their meeting is not fixed," an official at the presidential office said. "The issue of compensation for Korean forced labor victims is being handled by Seoul in line with its own process, and opinions are being privately exchanged with Tokyo, making it unnecessary for the two leaders to check on it when they meet."
The Korea-US summit will be the first one in four months since Biden visited Seoul in May. "Yoon and Biden will likely discuss the progress on the implementation of agreements reached during their first summit in Seoul," the official said.