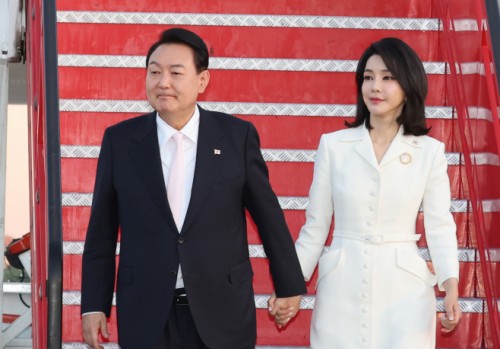 President Yoon Suk-yeol and first lady Kim Keon-hee disembark from the presidential jet at Madrid-Barajas Airport in Spain on June 27, 2022./ Source: Yonhap
AsiaToday reporter Lee Wook-jae
President Yoon Suk-yeol will make a seven-day trip from Sept. 18 to 24 to visit Britain, the United States and Canada. Yoon will attend the state funeral for Queen Elizabeth II on Sept. 19 in London, before heading to New York for the U.N. General Assembly and Canada for a summit with Canadian Prime Minister Justin Trudeau.
"The purpose of the trip is to strengthen the coalition with partner countries that share core values and broaden South Korea's base for economic diplomacy," National Security Adviser Kim Sung-han said during a press briefing at the presidential office in Yongsan, Seoul, on Monday.
"President Yoon wil attend the queen's funeral to deliver deep condolences to the British people and the royal family. It comes after a comprehensive consideration of factors, including the historic importance of the bilateral relations of South Korea and Britain, and the great legacy of the queen and her affection toward Korea," Kim said.
Yoon will then travel to New York for the U.N. General Assembly and deliver a keynote speech on Sept. 20. "We are in talks to set up one-on-one summits with state heads of other countries, U.N. Secretary-general, and meeting with the Korean community," Kim said. Yoon is reportedly in talks with U.S. and Japanese officials to hold bilateral summits with U.S. President Joe Biden and Japanese Prime Minister Fumio Kishida on the sidelines of the U.N. event.
If the summit meeting with Biden takes place, Yoon is expected to strongly express South Korea's position on the U.S. Inflation Reduction Act (IRA). "The U.S. seems to be looking closely into this matter," a high-ranking official at the presidential office said. "Given its importance to the South Korean industry, this matter is anticipated to be discussed during a meeting between Yoon and Biden."
In his keynote speech, Yoon is likely to deliver a message to the international community about South Korea's role in tackling global issues. Yoon's speech is expected to include his North Korea initiative and urge North Korea's denuclearization once again, to entice the regime to make "the right choice."
It is also noteworthy that Yoon will hold a bilateral meeting with Trudeau again in three months since June. "Canada is South Korea's second-largest mineral exporter, which supplies lithium, cobalt and other core materials required for secondary batteries," Kim said. "The visit to Canada will serve as an opportunity for building supply chain stability and resilience and strengthening bilateral economic ties."