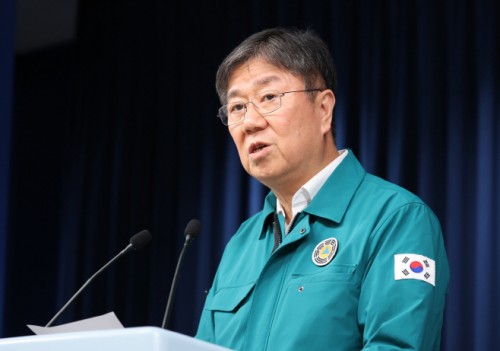 Presidential Chief of Staff Kim Dae-ki announced that President Yoon Suk-yeol nominated Vice Health Minister Cho Kyo-hong as health minister at the presidential office in Seoul on Sept. 7, 2022. / Source: Yonhap
AsiaToday reporter Lee Wook-jae
President Yoon Suk-yeol named Cho Kyoo-hong, 1st Vice Minister of Health and Welfare, as the health minister on Wednesday. Yoon also carried out personnel and organizational restructuring of the Secretariat, including the replacement of some 50 administrators, through the organizational check of the President's Office. Industry observers say Yoon's first reorganization of the presidential office has now been completed.
Presidential Chief of Staff Kim Dae-ki announced the personnel plan during a press briefing held at the presidential office in Seoul.
Kim said that candidate Cho was "an economic bureaucrat well-versed in the budget and finance fields, adding that he has been participating in pension service and healthcare reforms so far. Regarding the unfilled position of deputy prime minister and education minister, Kim said, "We will make an announcement soon after a little more verification."
Former Rep. Jun Hee-kyung of what is now the ruling People Power Party was named first secretary for political affairs, while Jang Kyung-sang, former secretary-general of the Management Institute for the State, was tapped for second secretary for political affairs. Chung Yong-wook, an official at the prime minister's office, was named secretary for people's proposals under the office of the senior presidential secretary for civil affairs, and Kang In-sun, the current presidential spokesperson, was named secretary for overseas public relations, a new post created under the senior secretary for public relations.
The office of the religious and multicultural affairs secretary will be renamed to the office of the social empathy secretary. Senior administrative officer Jeon Seon-young was appointed as acting social empathy secretary. Administrative officer Kim Dae-nam was named acting secretary for civil society and communication.
Along with secretariat-level personnel reform, the presidential office also carried out a large-scale personnel reorganization of executive-level working groups. "Some 50 officials have been replaced," a high-ranking official at the presidential office said. "The personnel replacements of the secretariat will be done if necessary. It doesn't matter how many people are involved."
"As 100 days have been passed since the inauguration, we conducted a wide-range organizational review to see if appropriate individuals are in the right posts for their given tasks and roles," the official said. "This personnel reshuffle is aimed at setting up the system and making the organization more efficient."